It's not too early for teams to start announcing their throwback paint schemes for this year's Southern 500 at Darlington Raceway.
Among the first is Roush Fenway Racing, which revealed the paint scheme for Ricky Stenhouse Jr.'s No. 17 Ford on Monday.
Stenhouse will have a Fastenal-sponsored car with the paint scheme used by three-time Cup champion Darrell Waltrip in his first career win.
The win came in the 1975 Music City USA 420 at Nashville Speedway when Waltrip was 28. Driving for Jake Elder, Waltrip started from the pole and lapped the entire field. In the 420-lap race, second-place finisher Benny Parsons was two laps down.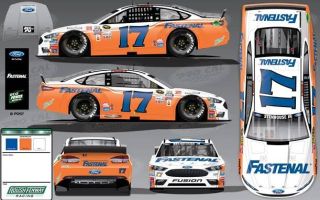 "Darrell Waltrip is one of the icons in our sport and has helped build NASCAR into the sport it is today," Stenhouse said in a news release. "It is a huge honor to be able to run the 1975 throwback paint scheme of Darrell's at Darlington. Darrell's last win was at Darlington so only seems fitting that we get his throwback paint scheme in victory lane on Labor Day weekend and have Darrell celebrate with us."
Waltrip finished his career with five wins at Darlington, including his final win in 1992.
"It's an honor to have this car run in the Southern 500," Waltrip said in the release. "I missed the throwback weekend in Darlington last year and regretted it. You can bet I won't miss this one, and I'll be rooting for the 17!"
Last year, Stenhouse's car was painted as a tribute to David Pearson.
The Southern 500 will be run on Sept. 4 and can be seen on NBC.