It's not an April Fools Day joke: Joey Logano won the Sprint Cup pole for the third consecutive time Friday at Martinsville Speedway.
Logano won all three rounds of knockout qualifying. He now has his sights set on winning at NASCAR's oldest track for the first time in his career on Sunday in the STP 500.
"It's huge," Logano told Fox Sports 1 of having the first spot on pit road. "We haven't got the grandfather clock yet (for winning), but qualifying is something Todd (crew chief Todd Gordon), and I have wrapped our heads around and really understand what we have to do.
"Martinsville is the most important track to start up front. We've had a good season so far, but you want to break through and get some wins. This will help us get some momentum.
"Starting up front here is important for a lot of reasons. One's the pit stall. Two is really staying out of trouble, so I'm excited about the race."
Logano has been a master of qualifying at Martinsville. In addition to his third straight pole at this track (and the 15th of his Sprint Cup career), he also has prior starts of fourth, sixth, third and second.
Only five drivers have won three consecutive poles at Martinsville — Glen Wood, Darrell Waltrip, Mark Martin, Jeff Gordon and now Logano.
Kasey Kahne (97.033 mph) qualified alongside Logano (97.043) on the outside of the front row, his best start thus far in 2016.
"It feels good, the car was really fast," Kahne said. "I just kept getting better with my laps. We didn't make any adjustments.
"It was close. Joey just barely got us. But definitely it's a good starting spot. That was one of my goals today."
Kahne, who turns 36 on April 10, has struggled this season. He has just one top 10 (10th at Las Vegas) and a 13th (Daytona). His other three starts have been 23rd (Atlanta), 22nd (Phoenix) and his worst finish of the season two weeks ago at Fontana (28th).
"I feel good about (Sunday's race)," he said. "We had a top-10 here in the last race last year with the back-up car because I crashed it in qualifying.
"This car's better than what our primary was last time. … I feel good what we have and we just have to work through it (in Saturday's practice) and get it driving the best we can for long runs."
Brian Vickers, replacing the injured Tony Stewart, qualified third (96.864), followed by Paul Menard (96.854), Ryan Newman (96.736), AJ Allmendinger (96.676), Kyle Busch (96.657), Denny Hamlin (96.642), Matt Kenseth (96.440) and Chase Elliott (96.224).
The Sprint Cup drivers have two practice sessions set on Saturday to make final preparations for Sunday's STP 500.
Here's how qualifying played out: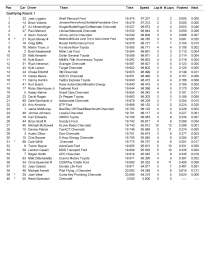 Follow @JerryBonkowski