It's a long way from Miami to Martinsville Speedway, but not for Brian Vickers.
The 32-year-old Vickers, who now lives in Miami, is eagerly anticipating next weekend's return to his home track for the STP 500 at the half-mile bullring in southern Virginia.
Vickers grew up an hour away from Martinsville in Thomasville, North Carolina. It was at Martinsville that Vickers initially became exposed to NASCAR racing up-close and in-person and ultimately led to his becoming a race car driver.
"I actually remember going to Martinsville as a kid and watching races," Vickers said in a media release. "We stood in the corners before pit road changed and watched the cars go by.
"As a kid, I always thought it was pretty cool the train went by the racetrack. Martinsville has always been a special place for me whether it was as a fan, running my first stock car race there, running Late Models or, now, running in the Cup Series."
Vickers, who is splitting duties with Ty Dillon in the No. 14 Stewart Haas Racing Chevrolet while Tony Stewart continues to recuperate from an off-season accident, is coming off the top finish for the No. 14 thus far this season, a 13th place showing in last week's Auto Club 400 in Fontana, California.
"Early in the race I brushed the wall, then cut a tire real bad," Vickers said. "We were last and down two laps. It would have been easy to hang our heads and just say it wasn't our day.
"But (crew chief) Mike Bugarewicz and the guys on the No. 14 kept at it. Our car was fast, we had good pit stops and strategy, and climbed right back to the lead lap. It's pretty cool to be down two laps and last, then be mad you only finished 13th. I thought we were going to get a top-10 for sure. That's a heck of a compliment to the No. 14 team."
Making his fourth start of the season in the No. 14, Vickers hopes to keep the momentum from California going at Martinsville – and has some added incentive.
"I'd love to get a clock," he said of Martinsville's tradition of giving a race winner a stately grandfather's clock. "I don't have one of those yet.
"We've come close. We've led laps but we need to get a clock. I think it's a beautiful piece. It's one of the most unique and special trophies, I think, on the circuit. I know a few guys who have one – it's one of their prized trophies."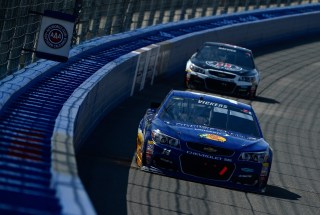 Vickers has three top-10 finishes and has led 27 laps in 18 career Sprint Cup starts at Martinsville, with an average start and finish of 19th.
Just as he did at Fontana last week (photo right), Vickers will be driving a car at Martinsville carrying sponsorship from Janssen Pharmaceuticals that is promoting Arnold Palmer's Arnie's Army Charitable Foundation. He knows what Stewart is going through being sidelined, as Vickers has also been forced to sit on the sidelines several times due to chronic blood clot issues.
"I've had a lot of fans come up to me and tell me their stories and ask me questions," Vickers said. "I think my story really resonates with a lot of people because I'm young and I'm an athlete.
"I mean, it's proof that this can happen to anyone. It has been a powerful moment. I've had a lot of people call me up in some of the weirdest places, like friends who will call me up and say, 'Hey, I'm on an airplane,' or they text me or call me when they land, 'My calf hurts and it's swollen and it's red.'
"I'm like, 'Well, you should go see a doctor. Did you not listen to the campaign?' But there have unquestionably been moments where it's made a difference. I've seen those moments and it's a very special feeling. It really is."
As for Stewart, he has begun a rehabilitation program that could hasten his return back behind the wheel in his final season as a Sprint Cup racer. But until then, Vickers is ready to fill in where he's needed.
"Nothing has really changed," Vickers said. "I think everyone is really just kind of waiting to see how Tony shakes out.
"I can genuinely and honestly say this – I want to race this car as long as I can because it's a great team and a great car and a great opportunity.
"But I really want to see Tony back in it. I have been in his shoes. I know exactly what it's like. It's his last season. He deserves to be in this car as much as he can be.
"I'm honored to race it as long as I need to and as long as I can, but I'm happy to turn the keys back over as soon as he's ready."
Follow @JerryBonkowski