Twice in the last year John Hunter Nemechek and NEMCO Motorsports have provided an unfamiliar sight, not just in the Camping World Truck Series, but in all of NASCAR.
Nemechek has driven his No. 8 Chevrolet into victory lane twice. Both times, the hood and side panels of the black truck have been empty.
In the 20 races he's ran in since the beginning of 2015, the No. 8 has had primary sponsorship for 13 races (Joe Nemechek and Ryan Newman combined for five starts).
In that time he's earned nine top-five and 11 top-10 finishes.
He started 2016 at Daytona International Speedway sponsored by farbe technik, a phone accessory company based out of British Columbia. A week later, he won an overtime shootout at Atlanta Motor Speedway, he "couldn't thank everyone enough."
"Everyone" included his father and co-owner, Joe Nemechek, and the rest of his team. Unlike most race winners, there wasn't an exhaustive list of sponsors to thank.
Later, John Hunter's father and team owner, Joe Nemechek, wondered aloud why that's the case.
"I ask myself all the time, 'how can a kid who's so good — knows how to talk, knows how to act, knows what's important — how can we not have a sponsor?'" Joe Nemechek said. "I haven't quite figured that out yet … a lot of good people are behind us but we still have to get a main sponsor on this truck every week."
John Hunter Nemechek has everything going for him. He's the son of a respected driver-owner and former Xfinity Series champion.
In addition to his two wins in the Truck Series, John Hunter Nemechek is a member of NASCAR Next, a program that highlights up and coming drivers. He was also named the CWTS' most popular driver last season despite only running a partial schedule due to being under 18.
His Atlanta win all but locked him into the Truck Series' season-ending Chase playoff.
"You go out there and you can show that you can win," John Hunter Nemechek told NBC Sports. "It's going to attract people, it's going to attract sponsors and also having the fan backing, especially with (my dad). He's big on that. He's won most popular driver a couple of times (Xfinity Series; 1992, 1993) so for me to win most popular driver shows how many fans we have out there."
Even with the wins, connections still have to be established with potential sponsors, which takes a small army.
"We have a couple of people that we've worked with in the past that are still trying to find sponsorship dollars for us," said the driver. "We have a couple of new people looking. I'm sending out sponsorship proposals out myself trying to find anything I can."
Those proposals are overtures to companies that establish everything NEMCO Motorsports can bring to a potential partnership and business-to-business options.
"We're trying to figure out a way that we can make it both beneficial for us as a race team and the company as that it's going to support," John Hunter Nemechek said. "It's different for every company. Each company gets their own unique way of how we would brand our team with that specific company."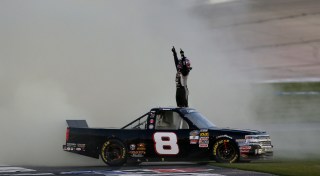 The bad news is none of John Hunter Nemechek's proposals have bore fruit for the No. 8 team. Sponsors like farbe technik, Meet Ball (a tailgating app), Berry's Manufacturing (online seller of bullets) and Mark 4 Suzuki have been acquired through the efforts of the team's associates.
"With the little funding that we have right now and for us to win two races under that little funding with no sponsor on the car, it definitely shows what we can do with limited resources," he said. "So who knows what we could do with a full budget?"
How far NEMCO Motorsports can take their momentum has been put on hold with the month-long hiatus for the Truck series after the Atlanta race. Nemechek's next time on track will be at Martinsville Speedway on April 2. Then it's another month off before the series returns at Kansas Speedway on May 6.
"Definitely from a preparation standpoint you can get a lot done during that time off, but at the same time as a driver you want to be in the seat every week that you possibly can racing something," Nemechek said. "The schedule kind of throws you off, but most people have (asked) from our win in Atlanta 'How are you going to carry that and confidence over into Martinsville?' Our team, we're all still on the high I guess you can say. It's motivating us, it's giving us confidence to show what we can do and we're going to try and build better trucks."
Due to his partial schedule last two seasons, there are still two tracks Nemechek hasn't yet competed on – Kansas and Charlotte Motor Speedway. Martinsville has been the site of career-high five starts for Nemechek. He led 32 laps and finished second there in last fall's race.
His first win would come 10 races later in a fuel conservation battle at Chicagoland Speedway.
"To tell you the truth, I thought I was going to get my first win at a short track before I turned 18," Nemechek said. "I felt like we had great shots at Martinsville, Dover, Gateway and Iowa before we went to Kentucky even. After we went to Kentucky and we ran that well, I knew we were going to be able to win at both the short track and intermediate tracks. We still haven't won at a short track, so I have to get that done soon."
If they get it done, it will be impressive with or without a flashy, sponsor approved paint sheme.