Even though he made his living, legend and legacy in drag racing, these days you're more likely to see Don "The Snake" Prudhomme at a NASCAR or IndyCar race.
And he's more apt to be hanging with the likes of team owner Chip Ganassi, Clint Bowyer, NASCAR Hall of Famer Rusty Wallace, Tony Stewart, Jeff Gordon, Ray Evernham or Greg Biffle.
Prudhomme, Gordon, Wallace and noted car collector Ron Pratte helped rescue Stewart after his sand rail accident Jan. 31 in the Southern California desert.
In another exclusive Q&A today on NBCSports.com's MotorSportsTalk, Prudhomme — who has been retired as a driver for 22 years and as a team owner for seven years — talked at length about where he's been, where he's at now and where he's going with his 75th birthday coming in just a few weeks.
One of the more interesting things Prudhomme had to say was about race car drivers today. While he was talking about young drivers in NHRA, his comments could be applied to NASCAR drivers as well.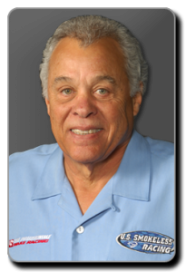 "In my opinion, the young drivers of today, they've pretty much worked themselves away from the fans," Prudhomme said. "You go to the track, you can't get near one. You go to the track and you have to stand behind the ropes.
"In our days, the fans could pretty much walk into the pit area and get your autograph or say 'hi.' Nowadays, it's very regimented. So, that's a downside, I think. (16-time NHRA Funny Car champ John) Force is a guy that really gets it, and a guy like (fellow Funny Car driver) Ron Capps gets it. He'll be out by his ropes. He's got it down and knows how to work the crowd.
"We used to do that, the crowd was right there with us. So, a lot of things have changed, but you have to keep in mind, too, that motor racing today isn't what it used to be as far as fan attendance and fans loving the automobile.
"These younger guys are into computers and other things. It's really hard to get that. When the young fans used to watch us, we were young, too, and they were driving muscle cars on the streets, so it's a whole different era.
"The other thing, when a car comes to the starting line to run, like a Top Fuel dragster, you don't even know who's in the car because it's covered up and you can't see the driver's helmet anymore. You don't have that personal connection like they used to, like they'd see the 'Snake' on our helmet, or 'Big Daddy' on Garlits' helmet, or 'Shirley' on Shirley Muldowney's helmet. You don't see that, they're really tucked away when they come out there and start the cars up.
"You don't know if (Top Fuel driver) Tony Schumacher's driving it or if (father and team owner) Don Schumacher's driving it. You just don't know. So the driver today is pretty much taken away from the fans, they don't have the connection we had, that's my opinion."
Here are a couple of other excerpts from Prudhomme's Q&A that NASCAR fans will likely enjoy as well, particularly his comments on Ganassi and Bowyer:
WHAT ARE YOU DOING NOW: "I'm doing a number of things these days. Ever since I retired from drag racing, I've really got to enjoy the things I always wanted to do but was too busy to do it. When you're in NASCAR, drag racing, whatever, you're really going for it, man. You don't really have a lot of time to smell the roses and do many things. Basically, I made a lot of friends through racing over the years, guys from Mario (Andretti) to all the guys back then and even current day guys. I go to several races, especially IndyCar races to watch my good friend Chip Ganassi. I do a lot of things."
CAN YOU BELIEVE IT IS NOW 22 YEARS SINCE YOU STEPPED OUT OF A RACE CAR FOR THE FINAL TIME: "No, I can't believe it, now that you mention it. It's amazing. There's just a lot of other stuff to do out there. … I'm really a fortunate guy. When I quit racing, (IndyCar and NASCAR team owner Chip) Ganassi took me under his wings and told me to go to the races with him, so I started going to IndyCar races. That's been my all-time favorite kind of racing, even over drag racing, since I was a kid. Oh, open wheel, absolutely. Mario Andretti is my all-time biggest hero of all time. I also love Formula One. I went down to Florida for the first IndyCar race (St. Petersburg) of the season, I'll go to Long Beach, the Indy 500. I'm a real pit rat. You'll always see me on the fence. And those guys know I dig it. It's the same when I go to (Sprint) Cup races. Clint Bowyer, guys like that, we've been pals because they do what they do and I do what I do, but there's this common bond which is kind of nice to have with guys like Jeff Gordon, we're just great pals."
Click here to read the full Prudhomme interview at MotorSportsTalk.
Follow @JerryBonkowski