Matt Kenseth (185.419 mph), Carl Edwards (185.347) and Ryan Blaney (185.161) were fastest in Saturday's final Sprint Cup practice at Auto Club Speedway.
Joey Logano was fourth fastest (185.099 mph) and Aric Almirola was the last driver over the 185 mph mark (185.071).
There was a wreck with about 25 minutes remaining in the session involving Kyle Larson and Greg Biffle.
Larson got loose and Biffle couldn't slow in time and ran into the rear of Larson's Chevrolet.
"I was running decent laps on top and just got loose there, kinda corrected, just barely missed the wall, and I decided to slow down so much that (Biffle) caught me when he was exiting the corner, in the back quarter-rear," Larson said. "It was my fault and I apologize to Greg Biffle."
Here's what Biffle had to say:
"We were on new tires. That was our second lap and (Larson) was on old tires, so our closure rate was super fast. I was kind of looking at my mark on the wall and on the race track and he wrecked in front of me and I just couldn't get stopped.
"There wasn't anywhere for me to go. The groove is right up against the fence and I was going probably 15-20 miles an hour faster than he was. By the time I saw him sideways I was catching him so fast that I don't know what happened."
Larson's car was damaged, but the team confirmed it would not go to a backup car for Sunday's race. Biffle took his car to the garage, but damage appeared to be repairable.
Here's how the final practice session played out: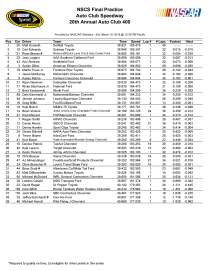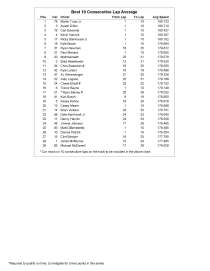 Follow @JerryBonkowski