Austin Dillon paced himself, kept his eyes on his fuel level and then avoided being forced into the wall on the final lap to rally and win Saturday's TreatMyClot.com 300 Xfinity Series race at Auto Club Speedway.
Dillon, who will start Sunday's Sprint Cup race from the pole, was in fourth place when he passed Erik Jones, who ran out of fuel with three laps to go. Dillon got past Daniel Suarez, who ran out of fuel on the final lap.
"I just kind of stayed focused on our fuel the whole time," Dillon told Fox Sports 1.
There was still one obstacle left between Dillon and victory lane: Kyle Busch, who had his left front tire fail on the final lap, continued racing on essentially three tires, trading the lead with Suarez before gaining it back when Suarez ran out of fuel.
Busch went high, which forced Dillon into the turn 4 wall, but Dillon got away and sailed to the checkered flag.
"He tried to screw me there at the end, but it didn't work out for him, did it?" Dillon said of Busch's ploy with a smile on his face.
Afterward in his press conference, Dillon said of the battle with Busch: "It's just racing. I would have probably done the same thing. I was a little aggressive on TV because I was jacked up, adrenaline was flowing. He made the move to try to hold off to win the race. Anybody in their right mind would have tried to win the race. I'm not mad at him at all. It just made for a crazy finish. At least it was fun."
Busch led 133 of the race's 150 laps, while Dillon led just the final lap for his seventh career Xfinity Series victory.
"I didn't think we had a car to do that, and we didn't, but we did what we had to do to win the race," Dillon said.
Busch, who was seeking his fourth consecutive series win, finished second. Erik Jones finished 15th.
After the race, the No. 6 Roush Fenway Racing Ford of Bubba Wallace was found to have failed post-race heights, according to NASCAR.com.
MORE: Results of TreatMyClot.com 300 at Auto Club Speedway
MORE: Suarez remains No. 1 in Xfinity Series point standings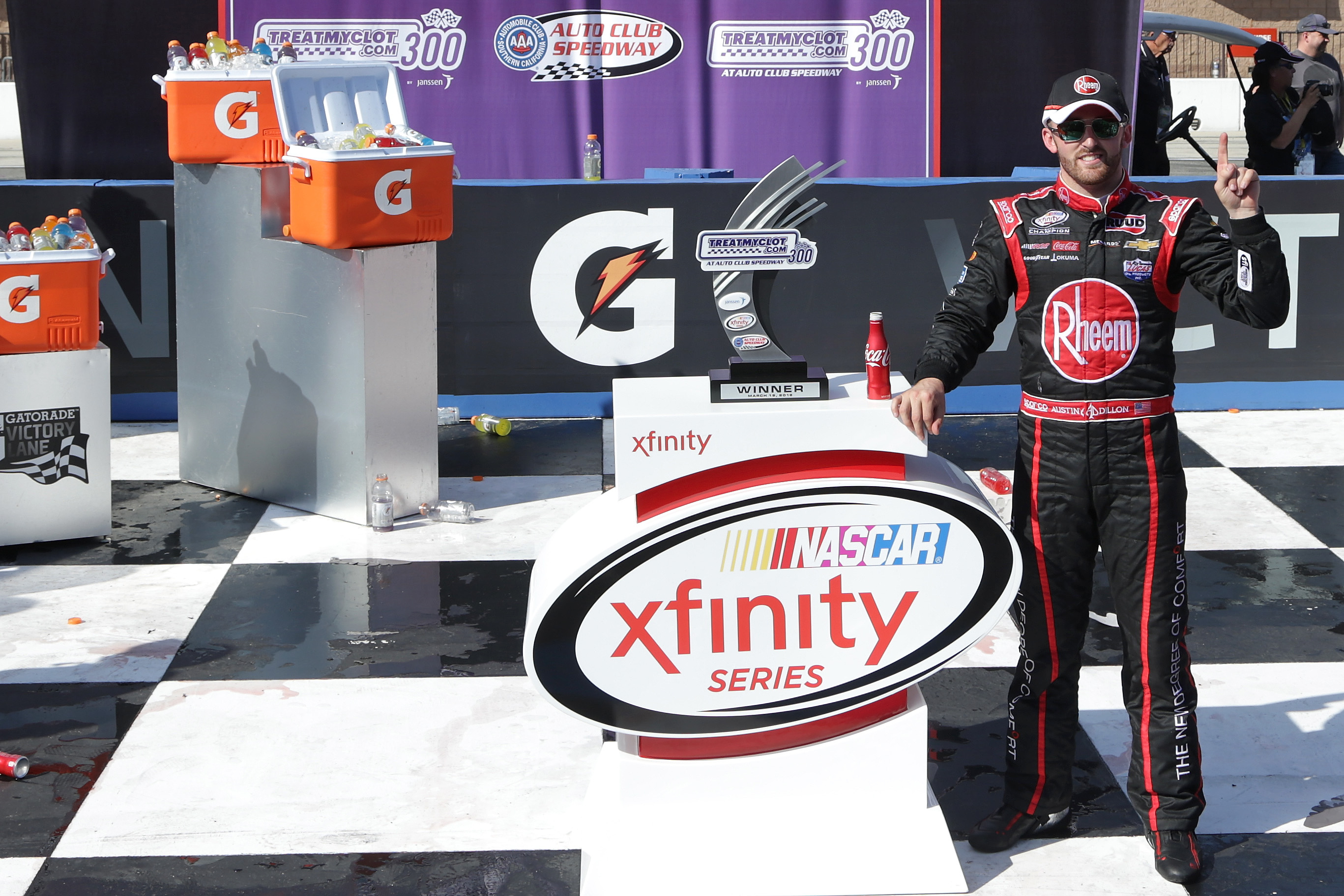 HOW DILLON WON: It was a race of attrition. Each of the top three drivers at the time (Busch, Jones and Suarez) suffered maladies in the final three laps. Dillon paced himself, let the race come to him.
WHO ELSE HAD A GOOD RACE: Darrell Wallace Jr. matched his Xfinity career best finish (third at Chicagoland last September). … Despite running out of fuel on the last lap, points leader Daniel Suarez still managed to extend his streak of top-10 consecutive finishes to a career-best 11 races in a row, dating back to last season. … Elliott Sadler extended his streak of top-10 finishes to all five races of 2016.
WHO HAD A BAD RACE: Ray Black Jr. got loose on Lap 46 and damaged his front end and splitter when he spun into the frontstretch grass. Black finished 37th. … David Starr also had an early wreck that relegated him to a 38th-place finish.
NOTABLE: Brendan Gaughan finished seventh, his best finish of 2016. … When Ryan Preece went for a spin on Lap 9, it continued a trend where every race thus far this season has had at least one caution within the first 10 laps.
QUOTE OF THE DAY: "It's just racing. I would have probably done the same thing." – Austin Dillon on hitting the wall on the last corner as he got by Kyle Busch.
WHAT'S NEXT: The Xfinity Series, as well as the Sprint Cup and Camping World Truck series, are all off next weekend for the Easter holiday. The next NXS race is April 8 at Texas Motor Speedway.
Follow @JerryBonkowski