Entering a weekend in which Jimmie Johnson's No. 48 Chevrolet pays homage to a flying superhero, the six-time series champion honored the moment his NASCAR career took flight.
Johnson tweeted a photo of his jubilant and soaring leap into his team members' arms after his April 28, 2002 victory at Auto Club Speedway (then known as California Speedway). The win was the first of 76 in Johnson's career, including three in his rookie season (the other two were at Dover International Speedway).
In his breakthrough victory, Johnson led 62 of 200 laps to take the checkered flag in only his 13th start in NASCAR's premier series. Johnson's impressive results later led teammate Mark Martin to nickname him "Superman" after he finished second to Johnson in the 2009 Brickyard 400.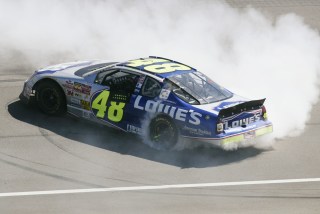 The Hendrick Motorsports star, who grew up about in El Cajon (about 110 miles from the 2-mile oval in Fontana), has five wins at the Southern California track nearest his hometown.
He also has a series-high driver rating (119.4) as well as most laps led (958) at Fontana.
"If there is a track out there that suits my driving style, Fontana is definitely one of them," Johnson said in a GM release. "It's a strong track for the Lowe's No. 48 team. We've had a lot of speed lately and with this new package I'm looking forward to getting there."
Johnson's car will have the Superman "S" on its hood, promoting the March 25 release of Batman v. Superman: Dawn of Justice. Teammate Dale Earnhardt Jr.'s No. 88 will sport the Batman paint scheme.