The NASCAR Sprint Cup preliminary entry list for this weekend's race at Auto Club Speedway lists Brian Vickers as driving the No. 14 car for Tony Stewart.
Stewart-Haas Racing confirmed Vickers would drive the car.
Vickers will have sponsorship from Janssen Arnie's Army Charitable Foundation. Janssen Pharmaceuticals produces the blood-thinning drug Xarelto, which Vickers promotes. March is "Blood Clot Awareness Month."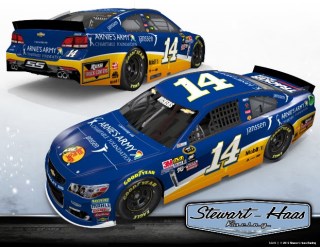 Vickers has driven the No. 14 car in the Daytona 500 and at Las Vegas Motor Speedway this season.
Stewart said earlier this month that the plan was for Ty Dillon to drive the car when Bass Pro Shops is the sponsor and Vickers to drive the car in other races. Stewart has not stated a timetable for his return to racing after suffering a burst fracture of the L1 vertebra in a sand dunes accident Jan. 31. He was cleared by doctors to begin a rehab program last week.
Thirty-nine cars are on the preliminary entry list.