AVONDALE, Ariz. — Kyle Busch won the pole for the Good Sam 500 with a speed of 138.387 mph. It's his first pole of the season and 18th of his career.
"I had a little bit of an itch, but I wasn't all that confident," Busch said. "I wasn't going out there and strutting my stuff like I was going to sit on the pole. I was trying to get a good lap in, get a good effort in, get a good pit selection, and so it all transpired to be a good day."
Carl Edwards qualified second, almost a mile per hour slower with a speed of 137.515 mph.
"That was my warmup lap," Edwards said. "The second one was going to be better, but they threw the caution."
When he was informed of how fast Busch went, he reconsidered. "They told me the first lap was the fastest one. I don't know if I could have run faster."
The session was not without drama.
Kasey Kahne ended the first session with the third-fastest time of 137.190 mph, but smoke from an EFI (electronic fuel injection) failure sent him to the garage. Kahne shut off the engine, but the car kept running. He will be credited with qualifying 24th but will drop to the back after the team replaces the engine.
Dale Earnhardt Jr. missed advancing to the second round for the first time since last fall at Richmond. His lap of 135.527 mph was the 26th best. Earnhardt started 29th at Richmond and finished fifth.
The caution alluded to by Edwards was for Jimmie Johnson. He was on his second lap after posting a speed of 137.174 mph when he slammed the wall.
"It was dragging the car through the center somewhat; then it locked up and went straight," Johnson said after he was released from the infield care center. "Something certainly happened. We just don't know what caused it at this point."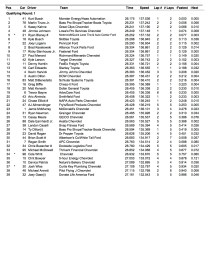 Follow @FantasyRace