Kurt Busch sailed to the top of the Sprint Cup speed chart in Friday's lone practice session at Phoenix International Raceway.
Busch completed 18 laps, with a field-best speed of 138.846 mph.
Daytona 500 winner Denny Hamlin was second fastest at 138.467 mph, followed by Joey Logano (138.254), Martin Truex Jr. (138.132) and seven-time Phoenix Cup winner Kevin Harvick (138.074).
A total of 39 cars took to the track for the session. There will be two more practice sessions on Saturday. Qualifying for the Good Sams 500 will take place today at 6:45 p.m. ET.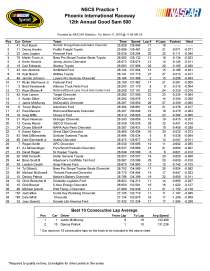 Follow @JerryBonkowski