Erik Jones (134.128 mph), Ty Dillon (133.924) and Ryan Sieg (133.393) were the fastest drivers in the first of three Xfinity Series practice sessions Friday at Phoenix International Raceway.
Jones was the only Toyota driver in the top 10. The next fastest Toyota driver was Daniel Suarez, who clocked in at 12th (131.589 mph).
After Jones were eight Chevrolet drivers and two Ford drivers.
Brad Keselowski, who won last Sunday's Sprint Cup race at Las Vegas, was fourth fastest (133.264 mph), followed by Blake Koch (133.018), Darrell Wallace Jr. (132.817), Justin Allgaier (132.680), Brennan Poole (132.572), Austin Dillon (132.563) and Brandon Jones (132.159).
Just one incident occurred during the session. With about 22 minutes remaining, Brennan Poole spun coming out of Turn 4 and slid into the sand barriers at the entrance to pit road.
"Thankfully, it's not that bad," Poole told Fox Sports 1. "It's just my fault, I got on the flat going a little too quick and just lost it. I'm glad it isn't worst than it is."
The other Xfinity Series practice sessions today are at 4 p.m. and 6:30 p.m. ET.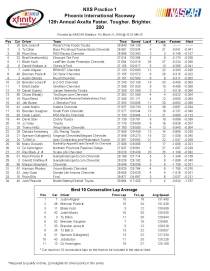 Follow @JerryBonkowski