A superhero is only as cool as their costume.  The same can be said to a lesser degree for a NASCAR driver and their firesuit.
But for the March 20 Auto Club 400, the firesuits of Dale Earnhardt Jr. and Jimmie Johnson will be pretty super. For that weekend's race at Auto Club Speedway in Fontana, California, Earnhardt and Johnson's cars will be sponsored by the movie "Batman v. Superman: Dawn of Justice," which will be released March 25.
Earnhardt's No. 88 Chevrolet will represent Batman, while Johnson's No. 88 Chevrolet will take up the mantle of Superman.
The driver's firesuits for the race have been revealed on Twitter.
Unfortunately, neither driver will be sporting  a cape for the race.
This isn't the first time Earnhardt has had a DC Comics character on his car.
Earnhardt was sponsored by the movie "The Dark Knight Rises" in 2012 at Michigan International Speedway when he won his first race in four years.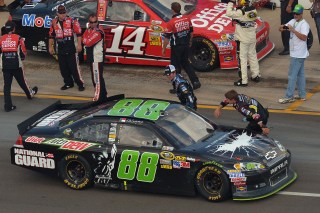 A year later,  it was the "Man of Steel's" turn to be on the No. 88, again at Michigan.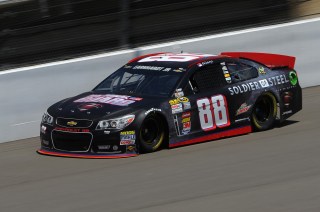 Superman returned to Earnhardt's ride in 2014 at the Coca-Cola 600.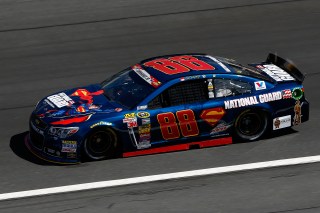 But Earnhardt's origin story with Superman goes back in his Busch Series (now Xfinity Series) days. The Man of Tomorrow was on Earnhardt's No. 3 AC Delco car for the 1999 Outback Steakhouse 200 at Phoenix International Raceway.
Batman appeared in the Winston Cup Series long before Earnhardt came on the scene.
In 1995, Bill Elliott's No. 94 Ford was sponsored by "Batman Forever" in the Coca-Cola 600.
Three years later, the No. 88 Ford of Dale Jarrett took The Caped Crusader for a spin in the fall race at Charlotte Motor Speedway.