Kurt Busch captured his second consecutive Sprint Cup pole, and did so in his hometown, clocking a field-best speed of 196.328 mph and 27.505 seconds (both track records) Friday at Las Vegas Motor Speedway.
Busch will take the green flag in Sunday's Kobalt 400 at the 1.5-mile track, a place where he has never won at (although brother Kyle did so at LVMS in 2009).
It was Kurt Busch's second career pole at his home track and the 21st of his Sprint Cup tenure. Kyle Busch won the pole last week at Atlanta, but his effort was disallowed, moving Kurt Busch from the outside pole to the pole to start that race.
Joey Logano will start Sunday's race on the outside of the front row (195.851 mph), followed by Matt Kenseth (195.780), Brad Keselowski (195.666), Austin Dillon (195.624), Kevin Harvick (195.454), Aric Almirola (195.291), Kasey Kahne (195.284), Denny Hamlin (195.080) and Martin Truex Jr. (194.974).
Jamie McMurray slapped the wall while qualifying and his team decided to go to a backup car for Sunday's race, meaning the No. 1 Chevrolet will start at the back of the 39-car field. Likewise for Carl Edwards, who will be going to a backup car and starting at the back of the field on Sunday.
Here's how qualifying played out: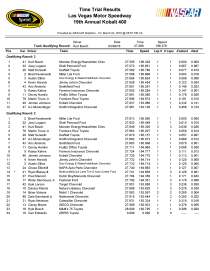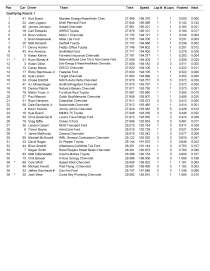 Follow @JerryBonkowski