While their Toyota brethren struggled during Sprint Cup practice, such was not the case during Friday's first of two NASCAR Xfinity Series practice sessions at Las Vegas Motor Speedway.
Toyota-powered Joe Gibbs Racing teammates Erik Jones (183.094 mph) and Daniel Suarez (182.896) were fastest of the 37 drivers that took to the 1.5-mile track, while teammate Kyle Busch was sixth fastest (180.481).
Three Chevrolet drivers wound up between Suarez and Busch: Brendan Gaughan was third-fastest (183.106), followed by Brandon Jones (181.886) and Austin Dillon (181.733). The fastest Ford driver was Darrell Wallace Jr., who was ninth-fastest (178.950 mph).
There was one significant incident during the session: Derrike Cope brought out the red flag with just over eight minutes remaining when he hit hard into the retaining wall, incurring heavy damage to the entire right side of his car.
Cope was expected to go to a backup car and potentially return to the track for the second session of the day, which begins at 6 p.m. ET.
Here's how the first Xfinity practice session played out: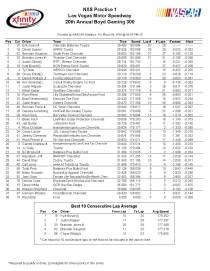 Follow @JerryBonkowski