One day after his Sprint Cup pole speed was disallowed after failing post-qualifying inspection, Kyle Busch roared right back to take the pole for Saturday's Xfinity Series race at Atlanta Motor Speedway.
Busch, who had a top lap of 185.499 mph, was part of a Joe Gibbs juggernaut that swept the top three qualifying spots for this afternoon's Heads Up Georgia 250. On Friday, Busch also qualified No. 1 for Sunday's Sprint Cup race, but his time was disallowed when his Toyota Camry failed post-qualifying inspection.
Teammate Erik Jones was second fastest in qualifying (185.078 mph), followed by Daniel Suarez (185.022).
Kyle Larson was fourth fastest (184.689), followed by Brennan Poole (183.333), Ty Dillon (183.200), Brad Keselowski (182.904), Ryan Sieg (182.735), Brendan Gaughan (182.717) and Kevin Harvick (182.585).
Speaking of Harvick, he has won the last three Xfinity Series races at Atlanta.
This afternoon's race begins at 1:30 p.m. ET.
Here's how qualifying played out Saturday morning: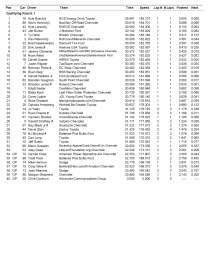 Follow @JerryBonkowski