When asked in a post-race press conference to recap his final lap in Sunday's Daytona 500, Martin Truex Jr. didn't try to sugarcoat or cast blame. He told it like it is.
"I finished second," Truex said of earning his best career finish at the 2.5-mile superspeedway.
Sure, Truex would have loved to have kept winner Denny Hamlin at bay down the frontstretch on the final lap. But Hamlin side drafted Truex just enough to pull ahead and win by 0.01 of a second, the closest finish in Daytona 500 history.
"I did all I thought I could do," Truex said. "I had the lead to the start of the (word) Daytona on the (frontstretch) wall.
"It couldn't have been more than 20 feet from the line. … He side-drafted me and I probably should have run him up a little bit more, but I thought we were close enough that I could keep that foot or so, but I couldn't. I lost it at the last second."
Admittedly, it had been a tough week for Truex, including wrecking on the final lap of Thursday's second Can-Am Duel race.
And even though he had to go to a backup car for Sunday's Great American Race, Truex relished not just the outcome, but how well he worked with his quasi-teammates at Joe Gibbs Racing.
Furniture Row ended a decade-long relationship with Chevrolet at the end of last season and moved to Toyota, combined with a technical alliance with Joe Gibbs Racing for this season.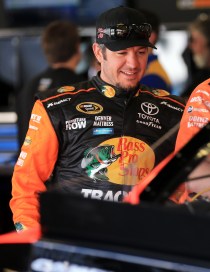 "I'm really proud of everybody and the teamwork with the JGR guys," Truex said. "For me, that was a big step in getting this relationship kicked off. We worked hard all week to make sure we didn't wreck things and we're going to continue to work hard to make sure those guys understand we're team players and we're in for the long haul."
That relationship worked wonderfully in Sunday's race, as JGR plus one (Truex) wound up capturing four of the top five spots with Kyle Busch third and Carl Edwards fifth. The other JGR driver, Matt Kenseth, appeared as if he might win, but fell back on the final lap after trying to block Hamlin. Kenseth lost the draft and finished 14th.
"The last lap, we were in great position behind Matt," Truex said. "If Matt would have stayed in front of us, maybe he would have held off Denny. He tried to cut off his run and Denny made it three-wide.
"I felt I had enough momentum to keep (Hamlin) behind me, and I did all the way up to the last couple feet. He just shot out the last couple inches there right before the line.
"I feel like the move Matt made is what gave me a chance at winning the race. I don't think I was in a position to make a move because Kyle was behind me and I think he was planning on staying with me, so I just couldn't shoot out before turn 4 without those guys jumping all over us."
It was the second runner-up finish for a member of the Truex family this weekend. Martin's younger brother, Ryan, finished second in Friday night's Camping World Truck Series race.
"I'm real proud of him for what he's done," the elder Truex said. "It's been a tough couple of years for him. It's great to see him persevere to find a truck to drive and bounce back. They just put the deal together only a couple weeks ago. It's great to see him back at the track."
While finishing second stings a bit, it also gives Truex an optimistic feeling heading to next Sunday's race at Atlanta Motor Speedway.
"I'm proud of what we did today," he said. "This is my best finish in this race. It's probably one of the strongest runs I've ever had a restrictor plate track. Sometimes, you just come up a little bit short. We're going to keep fighting and we'll come to Atlanta and try to win again."
Follow @JerryBonkowski