Denny Hamlin held off Martin Truex Jr. to win Sunday's 58th Daytona 500 at Daytona International Speedway by .01 of a second, the closest finish in the history of the Great American Race since the advent of electronic timing and scoring.
Truex looked like he might win, but Hamlin surged just before the start-finish line to take the checkered flag. It was Hamlin's first career win in 11 starts in the 500, and also the first win with new crew chief Mike Wheeler.
"This is the best," Hamlin said in victory lane. "I mean, it's just the best. It's the biggest race of my life. The Daytona 500. This is the pinnacle of our sport and I'm just proud to be here."
Truex finished second, followed by defending Sprint Cup champ Kyle Busch, Kevin Harvick and Carl Edwards in fifth.
"I did all I could do," Truex said. "I'm really proud of that effort. He just side-drafted me. I probably should have run (Hamlin) up a little more. I lost it at the last second."
Sixth through 10th were defending 500 winner Joey Logano, Kyle Larson, Regan Smith, Austin Dillon and Kurt Busch.
Matt Kenseth led heading into the final lap, but Hamlin got a strong run on the backstretch. Kenseth tried to block his Joe Gibbs Racing teammate, bumped fenders with Hamlin's car, and was forced to back off to avoid wrecking.
Kenseth, who was hoping for his third Daytona 500 win, finished 14th.
Hamlin led the most laps (95) of the 200-lap event, followed by Kenseth's 40 laps, Kyle Busch's 19 laps, Jimmie Johnson (18) and Dale Earnhardt Jr. (15).
Earnhardt was involved in a hard wreck on Lap 169 and finished 36th, one spot ahead of Hendrick Motorsports teammate Chase Elliott.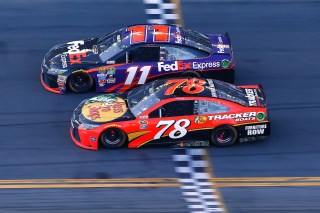 HOW HAMLIN WON: The driver of the No. 11 Toyota was running fourth when the final lap began. He got a great push from Kevin Harvick, muscled his way past Joe Gibbs Racing teammate Matt Kenseth, who tried to block him, and then got a late surge coming down the frontstretch to beat Truex to the finish line. Hamlin becomes only the fifth driver in NASCAR history to win both the Sprint Unlimited and the Daytona 500 in the same edition of Speedweeks. The others to do so were Bobby Allison (1982), Bill Elliott (1987), Dale Jarrett (1996 and 2000) and Jeff Gordon in 1997
WHO ELSE HAD A GOOD RACE: Furniture Row Racing switched from Chevrolet to Toyota this year for Martin Truex Jr., as well as established a technical alliance with Joe Gibbs Racing. As a result, JGR essentially had four drivers in the top five: Hamlin, Truex, Kyle Busch and Edwards. … Kyle Busch scored a top-five finish after missing this race a year ago when he was injured in the Xfinity race the day before the 500. … Regan Smith, who spun early in the race, finished eighth for his third top-10 in his last five Daytona 500 starts.
WHO HAD A BAD RACE: One of the favorites to win, Dale Earmhardt Jr., wrecked on Lap 169. Earnhardt's car got loose and hit the retaining wall coming off Turn 4. "It caught me by surprise there," Earnhardt told Fox Sports. "We were starting to move forward, getting aggressive and yeah, I just lost it." … Pole sitter Chase Elliott spun into the infield grass on Lap 19, suffering splitter and right side damage. He had to be towed back to the garage. He returned to the track on Lap 60 after repairs were made.  … On Lap 183, Danica Patrick and Greg Biffle tangled, with Patrick's car suffering heavy damage. She ultimately went to the garage on Lap 186 and finished 35th. … The day ended early on Lap 92 for Matt DiBenedetto and 2015 Xfinity Series champ Chris Buescher, who wrecked together, with both cars suffering heavy damage. Buescher finished 39th, DiBenedetto last in the 40-car field.
NOTABLE: Hamlin gave team president J.D. Gibbs perhaps his greatest birthday present. Gibbs, who has battled health issues the last year, turned 47 on Sunday. … Brian Vickers, replacing the injured Tony Stewart, was involved in a wreck but came back to finish 26th.
QUOTE OF THE DAY: "I don't know where that came from, I don't know what happened, I can't even figure out what I did, but it all just came together." – said Denny Hamlin, who shed tears as he held his longtime girlfriend and their baby daughter.
WHAT'S NEXT: Folds of Honor QuikTrip 500 on Sunday, Feb. 28, at Atlanta Motor Speedway.
Follow @JerryBonkowski