Ty Dillon led all drivers in Friday afternoon's final practice session for Saturday's Powershares QQQ 300 NASCAR Xfinity Series race at Daytona International Speedway.
Dillon had a field-best speed of 182.113 mph, nearly a full 1 mph faster than Ray Black Jr. (181.207). Third fastest was Jeb Burton, who signed earlier this week to drive for Richard Petty Motorsports this season. Burton's top speed was 181.127 mph.
Joey Gase was fourth fastest at 180.411 mph, while Darrell Wallace Jr. was fifth at 179.802 mph.
After going to a backup car earlier in the day, Wallace's team had to switch the transmission on his Roush Fenway Racing Ford after the first session earlier in the day.
Here's how the final practice played out: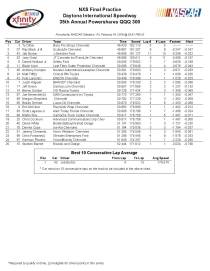 Follow @JerryBonkowski