Grant Enfinger's rookie season in the NASCAR Camping World Truck Series is off to a great start.
The defending ARCA Series champion, who will compete full-time in the Truck Series in 2016, will start tonight's season-opening NextEra Energy Resources 250 on the pole.
Enfinger was one of only two drivers to exceed 180 mph. His best speed was 180.752 mph, while Johnny Sauter was at 180.086 mph.
Timothy Peters was third fastest (179.691), followed by Austin Theriault (179.158), Daniel Suarez (179.108), two-time champ Matt Crafton (178.948) and John Wes Townley (178.880).
The final field will be 32 drivers, meaning 11 others went home after failing to qualify for the race: Korbin Forrister, Ryan Reed, Clay Greenfield, Austin Hill, Norm Benning, Carlos Contreras, Reed Sorenson, Jennifer Jo Cobb, Ryan Ellis, David Levine and Mike Harmon.
Ben Kennedy, grandson of the late Bill France Jr., and son of International Speedway Corp. CEO Lesa France Kennedy, suffered what appeared to be an engine problem and was unable to complete a qualifying run.
The NextEra Energy Resources 250 is set to take the green flag tonight at 7:30 p.m. ET. The race is scheduled for 100 laps around the 2.5-mile superspeedway, for a scheduled total of 250 miles – barring any additional green-white-checker periods.
Here's how qualifying played out.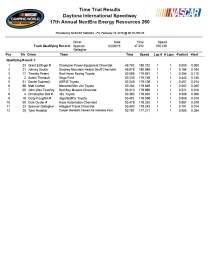 Follow @JerryBonkowski