Dale Earnhardt Jr. held off a last-lap charge by defending Daytona 500 winner Joey Logano to win the first of two Can-Am Duel races Thursday night at Daytona International Speedway.
Earnhardt led 43 of the race's 60 laps, repeating his winning performance in last year's first Duel in the same exact car – nicknamed "Amelia" – that he used to win last year's race, too.
It was also Earnhardt's fifth career Duel victory, the most of all active drivers.
Logano finished second. Rookie Ryan Blaney overcame two pit stops to fix a mechanical issue to rally for a third-place finish.
Kevin Harvick rebounded from last to finish fourth, followed by Sprint Unlimited winner Denny Hamlin, who led 13 laps.
Daytona 500 pole-sitter Chase Elliott had a good race, finishing sixth, followed by Kasey Kahne, Greg Biffle, Chris Buescher and Ricky Stenhouse Jr.
Elliott and Kahne were the only other drivers to lead a lap, each with two laps led apiece.
Michael McDowell raced his way into Sunday's race, but Josh Wise and Cole Whitt both fell short of making the 500.
HOW EARNHARDT WON: With under 10 laps remaining, Earnhardt spent three laps trying to find a way around Denny Hamlin for the lead. Hamlin did an excellent job of blocking several bids to move to the front by Earnhardt. With five laps to go, Hamlin went high, and Earnhardt went low, got a good bit of air and was able to regain the lead and motor on for the win. Earnhardt's win came 15 years to the date that his father, Dale Earnhardt Sr., died in a last-lap crash in the 2001 Daytona 500.
WHO HAD A GOOD RACE: Ryan Blaney struggled with mechanical issues that caused him to pit twice during the event, but he was able to rebound strongly with a third. "It was a good recovery," Blaney said. "We had a couple issues early in the race and went a lap down, but luckily we got a caution and got back on the lead lap. I'm excited for Sunday." … Prior to the race, Kevin Harvick said he had one of the best restrictor plate cars he's ever had. The proof was in the pudding as Harvick motored to a strong fourth-place finish. … For the third time in the last seven years, Michael McDowell raced his way into the 500. "I can't tell you what it means to make the Daytona 500," McDowell said. "We're racing Sunday and I just can't wait to get going."
WHO HAD A BAD RACE: Cole Whitt retired his car to the garage with about 12 laps to go, failing to qualify for Sunday's race. … In his first Sprint Cup start for Richard Petty Motorsports, Brian Scott got loose on the frontstretch and suffered a hard wreck on the final lap coming to the checkered flag. Scott was unhurt, but he'll start Sunday's race with a backup car.
NOTABLE: Joey Logano came away from Thursday's race knowing his chances of winning the Daytona 500 for a second straight year will be more difficult because of Earnhardt. "I can't beat him right now," Logano said with a laugh. "I've got to figure something out. He's so good. He's a great speedway racer and has a great car behind him. Congrats to him. We're close. We had a real fun run at the end … just got to get a little more to get past him. We almost had enough to get to the outside of Dale, but it just kind of died out, and that was the end of that."
QUOTE OF THE NIGHT: "It's a great car. Another win at Daytona for the Earnhardts, keep adding to the legacy. We're up there in the 50s now with all the wins we've got here, so I'm real glad to be able to do that. It was a fun race, did a lot of blocking, wasn't too crazy, glad it didn't get that way." — Dale Earnhardt Jr.
WHAT'S NEXT: The 58th Daytona 500 is Sunday at 1 p.m. ET.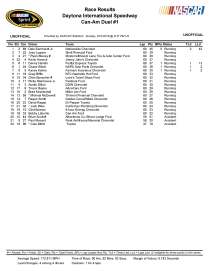 Follow @JerryBonkowski