Dale Earnhardt Jr. sat in the media center at Richmond International Raceway last September and made his best case for someone to sponsor an Xfinity Series car driven by Josh Berry.  Someone eventually got the message.
That person was Kenny Habul. Habul is the founder and CEO of the solar energy company that will sponsor JR Motorsports No. 88 Chevrolet in five races in 2016, two of them with Berry behind the wheel. Habul, who sponsored and competed in Joe Gibbs Racing's No. 20 in 2015 in three races, will do the same this year.
Berry made his Xfinity Series debut at Richmond in what Earnhardt called a "hail mary" move of placing the late-model driver in the No. 88. A native of Hendersonville, Tennessee, Berry got people's attention by starting fifth and finishing seventh.
Now the 25-year-old driver will get two more chances in the Xfinity Series, on July 30 at Iowa Speedway and Sept. 24 at Kentucky Speedway.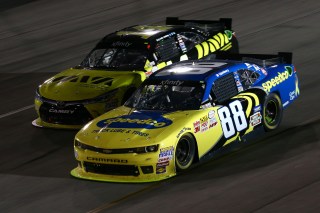 "When I first came to JR Motorsports, I never dreamed I'd get the chance to race in the Xfinity Series," said Berry in a team press release. "It's through a lot of hard work by numerous people that I have opportunities like this, especially Dale and Kelley (Earnhardt Miller). I can't wait to get on the track and see what we can do with the SunEnergy1 Chevrolet."
Berry has earned two track championships for JR Motorsports late-model team and won 10 races in 2015.
Habul, a native of Etobicoke, Ontario, will compete at Watkins Glen International (Aug. 6), Mid-Ohio Sports Car Course (Aug. 13) and Road America (Aug. 27). He has 12 Xfinity Series starts over the last four years, making three starts each season.
"We're happy to welcome Kenny and SunEnergy1 to JR Motorsports," said Kelley Earnhardt Miller, general manager of JRM. "Kenny has a contagious passion for road racing. I know he'll be a great asset for the team during these events. This is also another great opportunity for Josh. I think everyone saw what he is capable of at Richmond last year. These two races will help showcase his talents even further."
Habul and Berry join a roster in JR Motorsports "All-Star" car that includes Chase Elliott, Kevin Harvick, Earnhardt, Alex Bowman and Cole Custer.
Elliott will drive the No. 88 in Saturday's season opener at Daytona International Speedway.