DAYTONA BEACH, Fla. – If you've spent more than a few minutes listening to SiriusXM Satellite Radio's NASCAR channel, it becomes abundantly obvious that many of the station's callers are multitasking.
Many of them listen for hours on end and patiently wait on hold while a deftly piloting a 25-ton load down a crowded interstate somewhere in North America.
This hasn't been lost on the latest company to partner with NASCAR in an official sponsorship.
In the deal that made Mack Trucks the new "Official Hauler of NASCAR," John Walsh, the company's vice president of marketing, said the ubiquitous (and frequently passionate) voices of truck drivers on SiriusXM NASCAR emerged as a factor in the discussions.
"They are the unsung heroes of the economy who are keeping America moving," Walsh told NBC Sports. "Our industry is facing a very significant driver shortage. As a result, the opinions of drivers and which trucks they prefer has become a key purchase criteria for our customers. Partnering with NASCAR gives us a powerful means to further illustrate to key audiences that Mack is the best choice."
In a multiyear agreement announced Tuesday morning, Mack will replace Freightliner as the sport's official big rig. The Greensboro, North Carolina-based company will supply NASCAR with 11 Pinnacle high-rise sleeper models that are customized to help bring the sanctioning body's mobile offices to tracks at 36 races around the country.
NASCAR Chief Marketing Officer Steve Phelps said the sponsorship makes sense given NASCAR's reputation as a traveling circus of professional sports.
"There are certain categories that lend themselves that are endemic to the sport," he said. "Trucks certainly are one of them. The big rigs are in a sweet spot. You look at the number of truck drivers on the road who are NASCAR fans calling into SiriusXM, and it's a very good marriage between both a brand standpoint and category standpoint with NASCAR."
Walsh said Mack delivered 27,000 trucks globally last year (roughly 90% sold in North America) and had a market share of 8.1 percent. The company, which is known for its success in construction as a vocational truckmaker famous for large construction projects such as the Hoover Dam and Lincoln Tunnel, is trying to grow its long-haul business, particularly in Class A trucks.
Mack is hoping to use its NASCAR sponsorship to hook both drivers and decision-makers in small to midsize fleets that comprise much of its business. The company focuses heavily on driver comfort and specialization. For trucking companies struggling to attract drivers, being an attractive and popular brand can help with recruitment.
"We want to make sure the drivers understand the value we bring," he said. "That becomes a key driver for the folks they work for in purchasing decisions. Attracting and retaining drivers is a very significant concern for our customers today."
Walsh said trackside hospitality is being planned for every Sprint Cup race and expects to entertain a group of about two dozen at the Daytona 500. Mack likes that size because it is "a brand predicated on personal relationships.
"We're working through the engagement plan; it varies by track," Walsh said. "We get the opportunity to engage a significant number of customers with pace car rides, a driver meeting, pit areas and hospitality. Package that together, and it's an exceptional and unforgettable experience. Our dealers are very excited about this."
Mack already was involved in NASCAR through doing business with teams, which also frequently use Freightliner and Featherlite rigs and trailers.
Though there has been controversy in the past about NASCAR's official sponsorships siphoning off potential funding for its teams, Walsh said Mack hadn't been considering any team deals. NASCAR approached Mack several months ago about replacing Freightliner (whom Phelps said left because of "changing business needs").
"We're open to relationships with teams," Walsh said. "One of the things attractive about this is it gives us access to teams for those discussions. But at a higher level, to be involved with the sport this way is in line with our business objectives."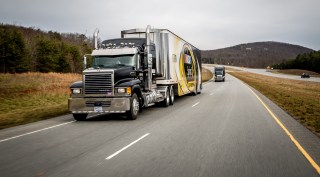 Phelps said much of the rancor from teams about official sponsorships had abated, and NASCAR "doesn't hear that we're competitive in the marketplace with them.
"When I came into this sport about 10 years ago, the first thing I heard from team personnel was, 'Hey, I don't feel this way, but I know other teams feel NASCAR is trying to steal our sponsors," Phelps said. "I think that's really because of the dialogue that has opened up that we rarely hear that anymore."
Phelps said a new industry services department headed by senior vice president of marketing Jill Gregory has helped breed a better environment in which teams are benefiting from cooperating with NASCAR on landing sponsors.
"That whole group's entire being is there to help teams with sales and marketing and bring in new sponsorship," Phelps said. "It's not done for official sponsorships. It's done entirely for teams. You look at the research provided by our group for the teams and tracks as well. It's more of an open book and transparent about what we're trying to achieve."