It doesn't count for anything but pride, but the NASCAR season begins Saturday night with the Sprint Unlimited.
The starting lineup has been set for the exhibition race at Daytona International Speedway and six-time champion Jimmie Johnson will start from the pole next to Brad Keselowski.
The 75-lap race is made up of 25 cars (15 less than a points race) with starting positions determined through a drawing by team crew chiefs.
Making up the top five is Johnson, Keselowski, AJ Allmendinger, Kyle Larson and Ryan Newman. Brian Vickers, who is replacing the injured Tony Stewart during Speedweeks at Daytona, starts 18th. Dale Earnhardt Jr. will roll off 23rd and defending Daytona 500 winner Joey Logano starts last.
Here's the rest of the starting lineup.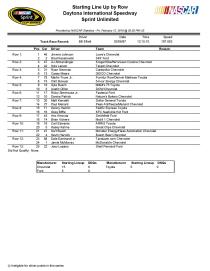 The Sprint Unlimited starts at 8:15 p.m. ET on Saturday on FOX, MRN and SiriusXM NASCAR Radio.