Hillman Racing announced Tuesday that veteran driver Reed Sorenson will attempt to make this year's 58th Daytona 500 as an open competitor.
Sorenson, 30, raced his way into last year's 500 by earning a transfer spot in the 150-mile qualifying races. He'll drive for the No. 40 CRC Brakleen team owned by Mike Hillman, with veteran crew chief Pat Tryson atop the pit box. The team does not have a charter and is not guaranteed a starting spot.
"When I first met with Reed a few weeks ago, I could see the fire in his eyes to get back into NASCAR's premier series and compete with the best in the sport," Hillman said in a release from the team. "He shares the same desire that we have as an organization and teaming him with Pat Tryson gives us the best chance at securing a spot in the 40-car Daytona 500 field.
"With 36 cars already locked into the field before we even get to SpeedWeeks, I hope that the fans are able to find some excitement cheering for an underdog story like ours as we battle for one of four open starting positions."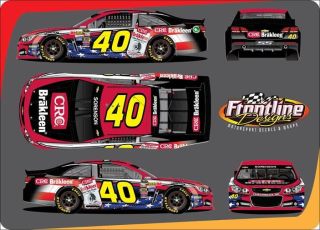 Sorenson will attempt to race his way in and compete in a seventh Daytona 500. He's had two top-10 finishes in the Great American Race (fifth- and ninth-place).
"You always want to start the season with the opportunity to go to Daytona and have a chance to compete in the Daytona 500," Sorenson said.  "I'm confident in the equipment at Hillman Racing, and given the team's performance on the superspeedways over the past two seasons.
"I'm looking forward to racing the CRC Brakleen Chevrolet into the Daytona 500 field."
Follow @JerryBonkowski