Legendary drag racer Don "Snake" Prudhomme gave NBC Sports a first-hand account of Tony Stewart's accident in the Southern California sand dunes Sunday.
Stewart and a number of current and former racers including Greg Biffle, Jeff Gordon, Ray Evernham, Rusty Wallace and Prudhomme were having a day of fun in the sun and sand when Stewart became separated from the group and went missing for about 90 minutes.
Here's how Prudhomme described the incident to NBC Sports:
"We were riding these sand rails. We do that quite a bit. We were all together. What really happened is, it isn't hard to get split off from one another. In other words, if a guy makes a left turn and you're not watching his flags or there's dust or something, you can make a right turn and kind of get lost.
"So, we got mixed up and (Stewart) was probably missing for an hour-and-a-half from the pack, at least. He was missing, he was not there. We figured maybe he got hooked up with one of the other guys.
"Then we were stopped and kinda gathered up and started to shoot the s— and asked, 'Where's Tony?' One of the guys (on the dunes) came driving up and said, 'Hey, one of your buddies is hurt over on the other side of the hill.'
"There was about three of us who went back on our buggies and we came upon him. He was laying there. He got out of it (the sand buggy) and was laying there in the sand on his back."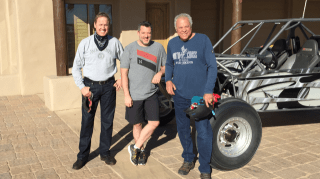 Contrary to media reports, Prudhomme said Stewart did not roll his sand buggy. Rather, Stewart apparently caught air in a jump and landed hard.
"What happens in the dunes, there was kind of a big mound and he flew over it and came down hard on the shocks," Prudhomme said of Stewart. "In other words, it bottomed itself out. What happened then, it drove the seat up into his ass, basically. It was like, BAM! He hit really hard, but we were running pretty fast.
"We pulled up, asked 'How you doing, dude?' He was on the ground and said his back's hurt. We made sure he could move all his legs and everything, so everything was good there."
Prudhomme said Evernham took charge of the scene. Gordon, car collector Ron Pratte and Prudhomme provided assistance.
"Ray Evernham is a real good guy, a real responsible guy," Prudhomme said. "He's been around situations like this before. Basically we got (Tony) into Ron's cart and Ron drove him real slowly out of there. (Tony) was holding himself up, as if his ass was real sore.
"Ron has a place in the area, so he had his helicopter fly over and land on this pavement because he couldn't land on the sand. Tony had his arm around my shoulder and had another arm around Ray's shoulder and Gordon was holding him up by the belt. He was walking real slow and we got him into the helicopter and laid him in the back seat.
"Ray got in the helicopter to go to the hospital. The pilot said he was going to Palm Springs Hospital and got on the radio. Ray was the best guy for the job, so he went with Tony and looked over Tony until midnight."
Prudhomme defended Stewart's driving.
"(Stewart) wasn't driving reckless or crazy or anything else," Prudhomme said. "He just happened to hit this (sand) ramp and the way it came down, and it was a lot taller or higher up than he probably realized. And it came down and crashed. We went back to get the car he was driving after he got into the helicopter and just fired that baby up and drove it back to the ranch.
"It wasn't like it flipped over. I've heard people say it flipped over. No, it didn't flip over, it just came down so hard that it messed his back up."
Stewart was conscious and alert throughout the entire episode, Prudhomme said.
"He was hurting, and we were all concerned about him," Prudhomme said. "But he wasn't like knocked out or anything like that. He was totally coherent, totally everything. It's just his back was screwed up.
"None of us realized how bad it was. The next day Ron and I went over to the hospital to see him and we sat in the room and he was showing us X-rays and s— and talking. Tony's Tony. He looked at me like he could just get up and walk out of there, but he couldn't. But he looked great."
When asked to describe how Stewart looked in the hospital the day after the wreck, Prudhomme borrowed a page from Stewart's usual comedic playbook.
"He needed a shave and a bath, I know that!" Prudhomme quipped.
"(Stewart) was great. In fact, we were in the hospital and it didn't look like he was going to have to be operated on. It was just going to be where they were going to put a support on him. He walked around with the doctor early in the morning with a walker.
"So we told him, 'Wow, that's cool,' and he said, 'Yeah, I don't think I'll have to be operated on.' But apparently when they got him back to Charlotte, these guys, whoever looked at him, felt he needed an operation.
"I just hope he's going to be alright. He wasn't doing anything crazy. Those things can run 110 mph pretty easy on the sand. It's a nice piece of equipment."
As it turned out, Stewart had traveled a couple of miles in the wrong way, Prudhomme estimated.
When asked about when Stewart was missing, Prudhomme said the three-time Sprint Cup champ was starting to worry if anyone would find him.
"It scared the s— out of us guys," Prudhomme said. "We were saying that Tony had been missing, and then we're told Tony's hurt. It was a ways away from where we were at. We found the trail he was on, went over there, and I said to (Stewart), 'Dude, how long have you been laying there?' He said, 'About an hour-and-a-half."
But there was a bit of comfort for Stewart, so to speak, Prudhomme added.
"It was the most comfortable place you could lay in the soft sand with a bad back," he quipped. "In other words, he wasn't ready to get up. I think he was starting to doze off a little bit (while waiting to be rescued). He just rested there.
"You know Tony, he's a tough son-of-a-bitch."
Follow @JerryBonkowski