After he conquered the Sprint Cup world and his Truck Series driver Erik Jones conquered the Camping World Truck Series, both in 2015, Kyle Busch is now out to conquer the Super Late Model world in 2016.
Kyle Busch Motorsports on Friday announced its Super Late Model driver lineup.
One of the biggest surprises is the addition of 15-year-old third-generation driver Todd Gilliland, son of NASCAR driver David Gilliland and grandson of legendary West Coast driver Butch Gilliland.
The youngest Gilliland will team with Camping World Truck Series drivers Christopher Bell and William Byron to split driving chores in KBM's Toyota Camry Super Late Model.
All three drivers are tentatively slated to compete in five races apiece, with the other five races still to be determined who will be behind the wheel.
"Super Late Model racing is something that I am very passionate about and I'm excited that with the schedule we've laid out for our team in 2016, KBM will have a presence at the majority of the marquee events this season," Busch said in a media release. "Competing in these events is a great way for Christopher and William to get quality seat time while competing against some of the best drivers around the country.
"Todd was really impressive last year at such a young age winning races in the CARS Tour, ARCA Series and the K&N Pro Series West. We're really pumped to have added another up-and-coming talent to our lineup this year."
The youngest Gilliland earned wins in three different racing series last season: CARS Late Model Stock series (Lucama, North Carolina), was the youngest winning driver in ARCA history (Toledo, Ohio) and in his K&N Pro Series West debut at Phoenix International Raceway in Arizona.
Gilliland will make his debut for KBM in the 2nd annual Winter Showdown in Bakersfield, California on Feb. 28. Other races he's slated to compete in are Greenville Pickens (South Carolina) Speedway (May 14) and Concord Speedway (May 27).
Bell, 21, has raced a Late Model for KBM since 2014 and has seven wins in 22 starts, including six wins in 15 starts last season. His first race is Feb. 6 at Greenville Pickens, as well as Winchester (Ind.) Speedway (Oct. 9) and the 49th annual Snowball Derby in Pensacola, Florida (Dec. 4).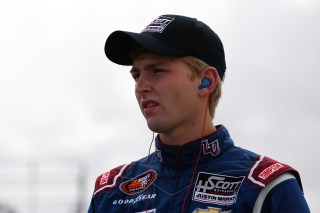 Byron, 18, won the K&N Pro Series East championship last season and was second in the 2014 NASCAR Whelen Late Model Series.
Byron's race card starts at Crisp Motorsports Park in Cordele, Georgia (Jan. 31), Anderson (Indiana) Speedway (July 16), Winchester Speedway (Oct. 9) and will also compete in the Dec. 4 Snowball Derby.
Follow @JerryBonkowski