The "competition caution" will take on a new meaning in the Camping World Truck Series with NASCAR introducing the "caution clock" in all but one race in 2016.
With the exception of Eldora Speedway, the clock will begin every time the green flag drops on a race. The clock will run down from 20 minutes. At the end of that window, if a caution has not occurred, the caution flag will wave with there being no beneficiary.
A caution occurring before the 20 minutes expires resets the clock with the following green flag and the first truck a lap down will be the beneficiary.
The caution clock will be turned off with 20 laps to go, except at Canadian Tire Motorsport Park and Pocono Raceway, where it will be turned off with 10 laps to go.
"We think it's going to add to the strategy during the race," said Steve O'Donnell, NASCAR's executive vice president and chief racing development officer at the NASCAR Media Tour. "If you look at the Camping World Truck Series, that is an area where some of our younger drivers, younger teams, newer teams really can use the competition caution to be able to adjust on the truck."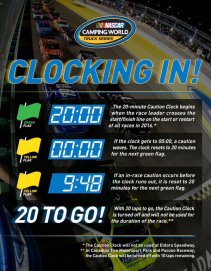 O'Donnell pointed to the use of competition cautions in all of NASCAR's national series for teams to be able to make adjustments in-race. Competition cautions are typically used in the early laps of a race when a significant amount of rain occurred the morning or night before the race.
"It's something we believe fits perfectly for that series," O'Donnell said, emphasizing the caution clock was only being introduced for the Truck Series. "Sure, we'll always look at it and see how it works and talk to the industry about it. This is an idea that actually came from the industry."
O'Donnell said the clock will also impact tire allotments for teams.
The executive also said NASCAR had visited the idea of having lap segments instead of a timer.
"Obviously our fans know laps, but when we looked at it with all the different venues that we had, we wanted to try and be as consistent as possible if we could," O'Donnell explained. "The clock seemed to be something that fans are used to from all sports and looking at it, it enabled us to just put a time versus trying to think of what lap it would be at each individual race track."
The caution clock will be introduced with the Truck Series' season opener on Feb. 19, the NextEra Energy Resources 250 at Daytona International Speedway.