Richard Petty Motorsports is going back to the past with its car number for Brian Scott this season.
Scott will drive the No. 44 Sprint Cup car in place of the No. 9 the organization has run since 2009. Scott will be a teammate to Aric Almirola, who drives the No. 43 car.
The No. 44 is one of six numbers in the 40s that have been used by the Pettys through the years. Richard Petty's brother, Maurice, used the No. 44 in select races in the 1960s and Richard Petty's son, Kyle, ran the number from 1997-2000. Petty Enterprises continued to use that number with other drivers from 2001-03.
"After the 2015 season, we had an opportunity to make some changes and get the No. 44 back,'' Richard Petty said in a statement from the team. " We felt that it was good timing. We really wanted to get that number back in the Petty family where it really belongs.
"Brian is coming on board, and he really hasn't had a number in the Sprint Cup Series. Everything has just come together to really bring back a Petty tradition.
"For us, the numbers are more than just a number you could say. They really represent our family history, our legacy and everyone who has worked for us or raced for us. We take a lot of pride in that and are glad to have the 44 back home."
Said Kyle Petty in a statement from the team: "It's good to see the 44 number back where it belongs. I grew up knowing that my uncle Maurice raced the 41, my grandfather raced the 42 and my father raced the 43. I would go on to race the 44 and Adam eventually drove the 45.  With Pete Hamilton driving the 40 at one time for PE, to me, those numbers were always 'Petty' numbers. Looking forward to seeing Brian Scott carrying on our tradition."
Added Scott in a statement about his new number: "I think it's special to be with an organization with such history and then to be able to put your name in their history. Richard Petty's history and recognition around NASCAR is his number. To go back to what everyone considers to be Petty history with the 44, I think it's really special to be the driver that gets to do that."
Here's a look at the Petty history with car Nos. 40-45:
Car No. 40
Pete Hamilton raced this number for Petty Enterprises during the 1970 season and won three races, including the Daytona 500.
"We've had a lot of other drivers race for Petty Enterprises and Richard Petty Motorsports, but when Maurice wanted to be the crew chief for the Superbird in 1970, we hired Pete Hamilton who was a big star racing up in New England,'' Richard Petty said. "We really felt that car was a big part of the Petty stable, so we used the number 40. Pete and (Maurice) won the 500 and swept the races at Talladega that year. That built the legacy of the number 40 with the family.
Car No. 41
Lee, Richard and Maurice Petty each used this number in 1962 and '64. Richard Petty and Jim Paschal, driving for Petty  Enterprises, each won with this car number.
Car No. 42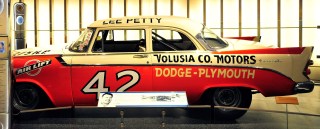 Lee Petty, who started Petty Enterprises, and once was NASCAR's winningest driver, used this number when he won all three of his NASCAR titles. Kyle Petty also drove this number during his career. "To speak about us changing our car number, you first have to go back to the beginning with my Dad (Lee),'' Richard Petty said. "He started Petty Engineering and later Petty Enterprises, and he was there right when NASCAR all started. He put together a car, and the first race he entered he actually raced a car numbered 38. But, that was it. He then went and got his own car. He had to a put a number on it and saw the number 42 on a license plate, and that's how it all started. It just went forward from there.''
Car No. 43
Perhaps the most famous car number in NASCAR (or right there with the No. 3 with Dale Earnhardt). Richard Petty won all seven of his titles with the No. 43 and most of his 200 career wins. Since Petty's retirement, Bobby Hamilton, John Andretti and Aric Almirola have each won driving the No. 43 car.
"After my brother (Maurice) and I got older, we wanted to race too,'' Richard Petty said in a statement from the team. "We put a car together with Dale (Inman), and when it was time to go to the track, we needed a number. The car we had was one of Daddy's old cars, so it was easy to just take the 4 off, and we raced under the number 2 for a few races. I think one race we just switched the numbers and raced with the number 24.
"When we got going into the 1959 season, it just made sense for me to go to the track with the 43 number with Daddy still racing the 42. That allowed me to have my own identity, and fate took it from there.''
Car No. 44
Maurice Petty used the No. 44 in select races in the 1960s and Richard Petty's son, Kyle, ran the number from 1997-2000. Other drivers who raced for the Pettys from 2001-03 also used that number, including Greg Biffle, Jerry Nadeau and Buckshot Jones. The No. 44 also was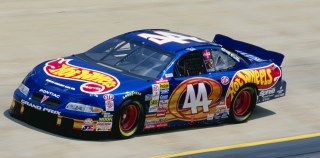 Kyle Petty's number when he made his stock car debut, winning an ARCA race in 1979 at Daytona International Speedway.
"Back then, it wasn't just Daddy and I racing,'' Richard Petty said. "Maurice was building the engines, but he did some racing too.  When it was time, we were using the 42 and 43, so he was one of the first to use the number 44 in the family. Later, he started using the 41, and then, that really became his family number that he used.''
Car No. 45
Adam Petty raced this number from 1998-2000 and made his Sprint Cup debut in the No. 45.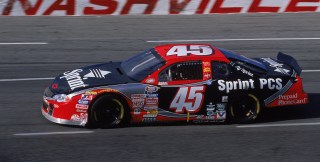 "When Adam came along, he saw that his great-grandfather raced the 42, I raced the 43 and so on,'' Richard Petty said. "He saw the order, and he just started right out with the 45. That worked for him and Petty Enterprises, too. He won in the No. 45 at Charlotte in his first ARCA start. He then carried that number with him.  That's the number that everyone thinks of when they think of Adam.''