James Bickford's family knows a bit about racing. His father's brother is John Bickford, stepfather of recently retired NASCAR legend Jeff Gordon.
James Bickford's pursuit of a racing career, which started in 2002, has led to being a member of NASCAR Next, a program that spotlights the sport's emerging stars.
The Napa, California, native has racing goals that have nothing to do with his driving ability. Bickford, the 2014 Pro Series West Rookie of the Year, wants to fund a race team with a business he owns. At 17, Bickford's off to a good start as owner of Pacific Vending, an operation of 50 candy vending machines he inherited in late 2014 from a family friend who wasn't using them.
"It was something that I thought of, just to try something of owning my own business and get a different business perspective," Bickford told NASCAR Talk.
Bickford's primary focus is on his racing career, which saw him win in consecutive seasons (2014-15) in the K&N Pro Series West (both wins were at State Line Speedway in Post Falls, Idaho).
His most recent career step was moving to the Charlotte, North Carolina, area to seek his next racing opportunity after the end of the contract with his KNPSW team.
The following Q&A has been edited and condensed.
NASCAR Talk: Before you moved, how often did you get out to the Charlotte area?
James Bickford: Not often enough. My kind of ideal is that I'm moving series as well, trying to move into the East series. My contract with (team owner) Bob Bruncati was up, so out of sight, out of mind if you're trying to race on the East Coast unless you're out here involved in different activities and various events that they have, whether it's for NASCAR Next, a racing event or needing to meet with a sponsor that's going to sponsor you, you need to be readily available on the East Coast.
NT: Because you've been a part of NASCAR Next, how many opportunities have been open to you in that sponsorship area?
Bickford: (It's) put me in the position necessary to open up sponsorship. We've done various events for NASCAR Next, and one of the events I participated in, we actually got to go to Charlotte Motor Speedway and be around for the entire (October race) weekend. That included going to the NASCAR R&D Center and enjoying that area and also meeting with the executives of NASCAR and asking them questions and getting more detailed information about the future of NASCAR and where it's heading. Each NASCAR Next driver got to shadow a driver, and I got to shadow AJ Allmendinger. So it put me in a whole different group of people, and I was able to speak to some of the people from Freightliner and some people from Kroger and the sponsors AJ Allmendinger is supported by. That was a great opportunity. I was able to speak in front of these people and it put me in front of a possible person of interest that I would need in the future to continue my career.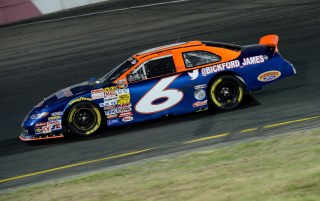 NT: Had you met AJ Allmendinger before that?
Bickford: I had never met him before and the first time was when I was dropped off in front of his hauler and given a contact. They really didn't set up what was going to happen, so it was really unexpected because they didn't know what the driver was going to want to do with us. They just knew we were shadowing them.
NT: You were just dropped off like it was your first day of school?
Bickford: Exactly, I could have been told 'Hey, hi. This is the 47 hauler. OK. Thanks, bye.' Or it could have been the complete opposite end. I think I was the only one where AJ actually put me on the spot, and he gave me a chance to talk to all of these people, and I'm talking to 150 people in the Freightliner hauler and 20 to 30 people outside his hauler with the sponsors and very important people. Obviously, he trusted me enough to talk to these people. I was thrown off guard, I thought I was just going to be standing and watching everything, but I also got to participate as well.
NT: What was your takeaway from talking with AJ Allmendinger?
Bickford: It completely exceeded my expectations. What I was able to take away from everything is what a Cup driver experiences on a regular race day and on top of that, I was able to experience what it's like to present yourself at a Cup level in front of sponsors, and that's critical. You almost play it as if it's a game to try and make the people that support you enjoy themselves. You're not just there to talk to them, you're there to interact and be a part of their day and when you walk out of that hauler, they're saying 'Wow, I'm glad I got to see or meet AJ Allmendinger. He was such a nice guy.' I think that's the goal, I know that's the goal for all of the Cup drivers, and I was able to realize that from being a part of the program.
NT: What's the one track you're looking forward to visiting for the first time as a driver and a spectator?
Bickford: I would have to go with probably Bristol or maybe Auto Club (Speedway) because it's an oval in California. That's a pretty tough question. To me, any Cup track. Going to Phoenix was like the biggest deal ever to me. I went from racing at All-American Speedway to racing at Phoenix International Raceway, and that's the first Cup track I've participated on. It was completely a surreal experience. To be on the same track as a Cup driver is a privilege to anybody, and it really states who you are as a driver.
NT: What's your favorite candy?
Bickford: I'd probably say jelly beans.
NT: Favorite flavor?
Bickford: Either sour cherry or berry blue.
NT: What's a phone app not related to social media that you use the most?
Bickford: Probably Spotify. Maybe an hour a day or so.
NT: What's your go-to playlist?
Bickford: Anything by G-Eazy.
NT: What's your favorite G-Eazy song?
Bickford: My favorite G-Eazy song right now is "Calm Down" and then overall it's probably "Get Away."
NT: Who is a celebrity outside of racing that you're dying to meet?
Bickford: Either Brodie Smith or G-Eazy.
NT: Who is Brodie Smith?
Bickford: I also play Frisbee, so I'm a big Frisbee fan. He does trick shot videos and plays on an Ultimate Frisbee team. Me and my friends have been dying to meet him. He actually went out to a NASCAR race and did a trick shot video at the (2014) Daytona 500, and I was so bummed because I didn't get a chance to meet him.
Previous NASCAR Next Q&A's: