The 2015 NASCAR Sprint Cup season will hold different memories for everybody, but as I looked through pictures on my phone from the past year, I was struck by some special moments – big and small – from this season.
What's included here aren't always the most significant events of this season, but unique moments frozen in time.
Here are the pictures that stood out to me as I looked back on the year: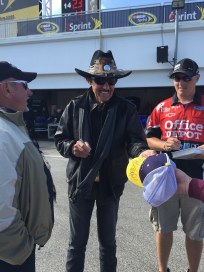 Of course, you can't overlook the King with his court. Here's a picture of Richard Petty with that trademark smile about to sign yet another autograph for a fan at Daytona International Speedway in February.
One can only imagine how many times he's signed his name for fans. And he keeps signing year after year after year.
This is one of my favorite photos, and it is one I lucked into. I was taking pictures of competitors as they left the drivers meeting at Richmond in September. It wasn't until after I took the picture that I saw the young boy's face.
When I posted this picture on social media, several people asked if Johnson walked by the child and ignored him. No, he did not. If you look at what Johnson is holding, it's a handwritten invitation the boy made for Johnson to attend his birthday party.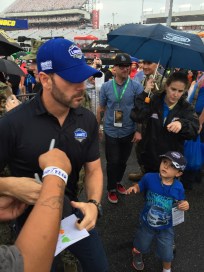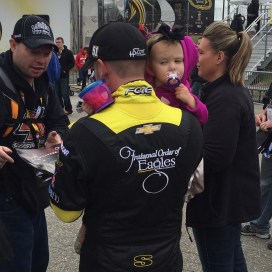 Justin Allgaier provides new meaning to double duty in NASCAR. Instead of running two races during the weekend, he's holding his daughter as he signs an autograph at Dover in September.
Her look of contentment as her daddy carries her is priceless.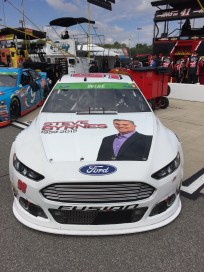 This also was a year to say goodbye. Not only did the sport lose former champion Buddy Baker, among others, it lost Fox broadcaster Steve Byrnes, who died April 21 from cancer. Byrnes lived long enough to see the Food City 500 in Support of Steve Byrnes, which was run April 19.
#ByrnesStrong was common on social media. His final tweet was to a fan asking if he had watched the rain-delayed Bristol race. Byrnes' wrote: "I went the distance."
Here's the hood of Josh Wise's car the following week at Richmond.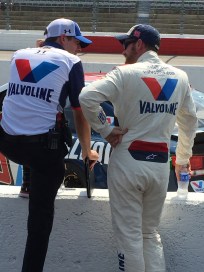 This is one of my favorite pictures, although it's not a moment crew chief Greg Ives or Dale Earnhardt Jr. likely will want to recall. This was at Darlington after Earnhardt qualified 26th – his worst starting spot in weeks.
Ives and Earnhardt talked at length on pit road after the first round of qualifying. Earnhardt had been 12th in practice, and this qualifying effort left both perplexed. Earnhardt went on to finish eighth in the Southern 500.
What makes this one of my favorite photos is the just the clean design of the Valvoline logo on the back of both men and the deep discussion taking place.
Another picture that caught my eye as I went through my phone was this shot I took of Kevin Harvick at Dover in May.
With his car and crew gone, Harvick is left alone in his garage stall during a practice session, but his helmet is nearby for when the car is ready to go back on to the track.
Harvick finished that second that weekend. When the Cup series returned in September, he needed to win to advance to the second round of the Chase and did so.
The Southern 500 returned to Labor Day weekend and Darlington Raceway and the sport went retro. More than a dozen NASCAR Hall of Famers attended the race. Here are five (left to right): Cale Yarborough, Bobby Allison, Richard Petty, Leonard Wood and Rusty Wallace.
For those counting, there are 13 championships and 520 victories represented in this picture.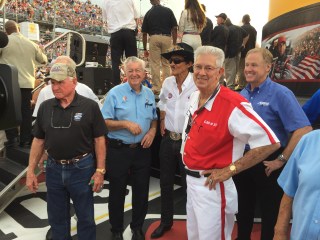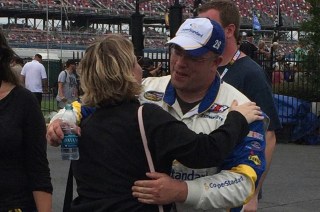 Brian Keselowski hugs his sister Dawn after the Camping World Truck race at Talladega. It was his first Truck race, and he drove for younger brother, Brad's team.
Brian Keselowski was fourth before the final restart when he ran out of fuel. He finished 17th. Afterward, he and his sister commiserated and celebrated.
Ryan Newman and his daughter enjoyed some father-daughter time before the Coca-Cola 600 at Charlotte Motor Speedway.
I like how this shows the calm for one driver before a race.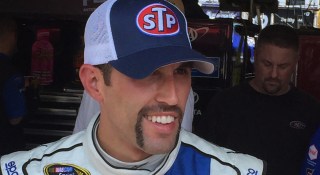 Aric Almirola with his salute to the throwback theme at Darlington Raceway for this year's Southern 500. Nothing else needs to be said.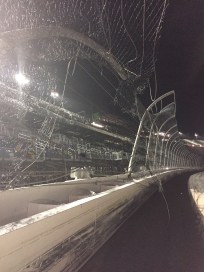 The video of Austin Dillon's crash after the end of the July Daytona race was horrifying. But standing near the destroyed segment of fencing, one saw how truly ferocious the accident was.
This is a reminder of the dangers that these drivers face when they strap into their cars. Fortunately, Austin Dillon was not injured in this incident.
Here's a moment I'll never forget. I made it to Jeff Gordon's car after his final Sprint Cup race and watched him climb out. Shortly after he exited the car, team owner Rick Hendrick came through the crowd. Hendrick and Gordon embraced three times.
What Gordon struggled to say to Hendrick without crying during his speech at the Sprint Cup Awards in Las Vegas was quite evident in this moment.