When hosting a car show, it helps to have friends who are car people.
Ray Evernham knows more than a few, and the NASCAR community will be well represented Saturday in Evernham's third annual AmericCarna LIVE Car Show at the Ingersoll Rand headquarters in Davidson, N.C.
The event is expected to draw a crowd of more than 3,000 to see more than 300 classic, custom and collector cars. Among those on display will be Dale Earnhardt Jr.'s 1965 Chevy Imapala (with the original drivetrain and power glide transmission) and his sister Kelley's 2002 Intimidator Camaro (the last one built).
NASCAR drivers Ryan Newman, Martin Truex Jr., Joey Logano, Denny Hamlin and Kyle and Kurt Busch have brought rides to the event, which has grown to include crew chiefs and team members. Evernham said Chad Knaus, crew chief for Jimmie Johnson, told him he plans to bring a restored Chevy Nova this year, and team owner Rick Hendrick will send a half-dozen cars from his collection.
"The word of mouth has helped a great bit, but that's what is great about the NASCAR community," said Evernham, an NBC Sports analyst who was voted the greatest crew chief of all time in a poll of the news media after winning three championships with Jeff Gordon. "I'm lucky enough to know some of these guys. People are looking for donations, time, appearances from these guys. All I want is a cool car so people can come and see. It makes it really easy, and everyone has really helped us a good bit.
"You just never know who's going to show up."
The show also will feature many cars from AmeriCarna, Evernham's TV series that will return next year for its third season on Velocity. One episode will center on how several Corvettes were retrieved from a sinkhole at the National Corvette Museum. Evernham's team also recovered the car that Dan Gurney drove in his last IndyCar victory, participated in the Race of Gentlemen on the beach in New Jersey (with Evernham's wife, Erin) and found a car in original condition from running the Bonneville Salt Flats in 1951.
But Evernham's favorite episode might be about the wooden board tracks (including a 1.25-mile circuit in Charlotte) that were popular in the 1930s with daredevil racers trying to tackle 45-degree banking with cars and motorcycles. It will feature a sitdown with action sports star Travis Pastrana.
"He had an unbelievable perspective on what these guys did in the '30s," Evernham said. "If Travis had been born then, he'd have some wild nickname and have been jumping out of hot air balloons and all those things. He's the modern-day daredevil, which is what those guys were in those midget and sprint cars. They did death-defying things back then."
The board tracks faded from the spotlight after the start of World War II, and Evernham likes how AmeriCarna can help unearth such tales for posterity.
"I always tell people some days I'm like a car-chaeologist," he said. "I love the history.
"Somebody's got to protect those stories and find those artifacts so the people who do want to see them can see them for generations to come. I enjoy doing that. I've always had a love and passion for the automobile, but I also have a great interest in the stories and how much a difference those things have made in our history. Because the personalities that go along with those cars and the things we find behind the scenes have just been incredible.
"It's one of the things that I enjoy most right now. I'm as passionate about finding and restoring these cars and meeting people as I was about racing. It's filled a huge, huge void for me."
Through charitable donations and admissions ($5; kids younger than 10 are admitted free), AmeriCarna Live also fills a need. The event benefits IGNITE, the Autism Society of North Carolina's community center for young adults with high-functioning autism or Asperger's Syndrome (which Evernham's son has).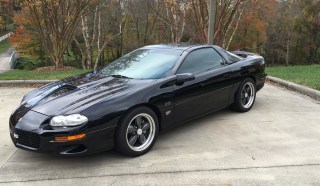 Evernham is hoping to match the $110,000 donated to IGNITE through last year's event.
"More importantly, it's continued to bring awareness to the issue of young adults that are high-functioning on the autism spectrum that struggle as they graduate high school to fit into the community," he said. "Hopefully, we can continue to bring attention to that and give these people the opportunity.
"Being on the autism spectrum has a lot to do with social disorder, so there's just a great amount of resources and things these people can do if we learn to understand what they go through and communicate with them a little bit better. IGNITE is as much about creating awareness about that communication as helping individuals."