Xfinity Series points leader Chris Buescher spoke this week about his championship hopes in today's season-ending Ford EcoBoost 300 at Homestead-Miami Speedway.
But Buescher's comments could have been said by any of the three drivers he'll be battling to win the Xfinity championship.
"I think we can go get this thing," Buescher said. "Our team has been very good all year. I'm very proud of what they've been able to accomplish and how consistent they have been, so we'll go into Homestead and see how it plays out.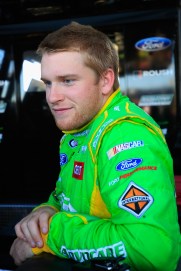 "Everything that's in our control, we can handle that. It's just the rest of the components of this thing and the way racing goes, you're never fully in control. We'll go have some fun and see if it all plays out, and hopefully we get to raise a trophy."
Buescher takes an 18-point edge into today's race on Chase Elliott. Buescher leads Ty Dillon by 22 points and Regan Smith by 24. Buescher clinches the championship with a finish of 13th or better, or 14th with at least one lap led, or 15th and the most laps led.
He has been one of the most consistent drivers in the Xfinity Series this season. In 32 starts, he has two wins, 11 top-fives and 20 top-10s. That consistency, particularly in the second half of the season, has been significant, given Buescher has not won a race in the last 20 starts.
Buescher also has an average finish of 8.3 this season, best of the four Xfinity title contenders.
"(It's) been a pretty solid season for us, been really happy with everything we've been able to accomplish," he said. "(We) built also the momentum we had from the 2014 season and were able to have a good year with good consistency.
"We're looking forward to getting to Homestead and finishing it off. It's one of my favorite racetracks that we go to, probably my favorite mile-and-a-half. It's got an asphalt that's worn out and makes for better racing from some of the other places we go to."
But Buescher isn't the only one who's been consistent this season, especially down the home stretch. So, too, have been his three rivals.
Elliott, son of NASCAR Hall of Famer Bill Elliott, has one win, 11 top-five and 26 top-10 finishes, with an average finish of 8.9.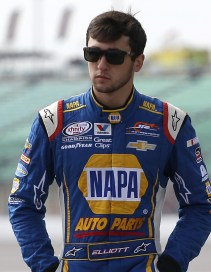 But Elliott has struggled at times, as compared to last season. During his 2014 championship season, he won three races and had 16 top-fives (along with 26 top-10s). He also led the Xfinity points for much of the season. He's not led the points this year.
"Things definitely had its up-and-down times," Elliott said. "We've had times where I feel like we've been pretty strong and we've given a lot of effort to try to improve upon throughout the year. We're fortunate to get to victory lane once so far and we're certainly trying to get there again before the year is out.
"Homestead is a place that I've enjoyed watching over the years. I think it produces some good racing. Hopefully we can go put on a good show for the fans and try to give ourselves a chance this weekend and worry about the things that we can control and forget about the rest."
The third Xfinity contender, Dillon, is hoping to emulate what older brother Austin did in 2013 by winning the Xfinity championship.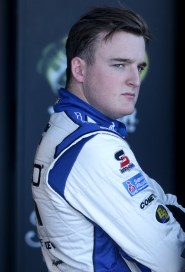 After winning at Indianapolis last season, the younger Dillon brother has failed to reach victory lane in 2015, but he's tempered that with 12 top-five and 24 top-10 finishes in 32 starts.
His 8.7 per-race average finish in 2015 puts him between Buescher and Elliott. Plus, he's doing some of his best racing of late: five top-five finishes, plus two other top-10 showings in his last eight starts.
"We led most of the series at the beginning of the year and started off pretty solid," Dillon said. "Midway through the season we started having some issues and things that we couldn't really control and made some changes within our team and changed crew chiefs, and it's really, really turned our program around here lately.
"I'm looking forward to the opportunity this weekend of hopefully winning the championship and getting our first win of the year, and also racing in the Sprint Cup race (on Sunday) and getting as much experience for the future."
Smith has the biggest hurdle to overcome, 24 points behind Buescher, while six behind Elliott and two behind Dillon. Smith has had some strong runs the last two months that allowed him to cut into Buescher's lead.
Had it not been for poor showings at Daytona and Dover in the early part of the season, Smith likely would be much closer to Buescher today.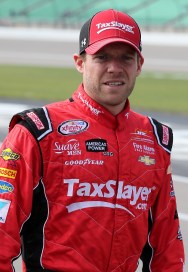 "Obviously we haven't had a great year because we're not going into Homestead with the points lead," said Smith, who finished runner-up to Elliott in last year's championship battle. "We're doing the chasing right now. But with that said, we've had good consistency throughout the majority of the season.
"I think our main problems came within the first six races. We had a crash and we had a parts malfunction that kind of put us in a hole, so we've been trying to dig out of that hole all year long and have chipped away at it, and certainly closed it up.
"So to even be going into Homestead with a chance to win the title, it has been a lot of work to get to that point."
Smith has earned two wins, as well as 11 top-five and 25 top-10 finishes this season, with an average finish of 9.0.
With his contract not renewed for 2016, Smith will be making his last appearance in the No. 7 Chevrolet for JR Motorsports.
It'll be a bittersweet moment, but he hopes to make the best of it.
"I started my tenure at JR out on a bang (won his first race for the organization in the 2012 season finale at Homestead), and would like to end it the same way," Smith said.
Follow @JerryBonkowski