Denny Hamlin claimed the pole in Friday's qualifying for Sunday's Sprint Cup season-ending and championship-deciding Ford EcoBoost 400 at Homestead-Miami Speedway.
Hamlin (176.655 mph) edged outside pole-sitter Joey Logano (176.263 mph).
"Everything's going good," said Hamlin, who has previously won at Homestead but had never won a Sprint Cup pole there until Friday. "I wouldn't mind a little bit of rain tomorrow to not let these guys catch up in race trim."
Two of the four remaining contenders for the Sprint Cup championship qualified in the top-five: Kyle Busch will start third (176.062 mph), while Jeff Gordon will start fifth (175.291). Sandwiched in-between the two is Ryan Newman (175.347).
"I leaned on Matt (Kenseth) and I leaned on Carl (Edwards) as well, too," Busch said. "Everybody, I've taken a piece of their information, kind of used it already here today. … Right now we've got a good enough starting spot that we don't have to pass too many."
As for Gordon, he had to qualify twice in the first round to advance to the second round.
"It wasn't easy," Gordon said. "Man, that was a heck of an effort by this race team. We've got a great race car. I just totally messed, that first run, without making a qualifying run in practice, I didn't know how hard I could push it, how much the track had picked up and it cost me that first round.
"Man, top-five, that's awesome. I'm proud of that."
Martin Truex Jr. qualified 11th (174.498 mph).
Defending Sprint Cup champion Kevin Harvick was the only one of the four championship contenders that failed to qualify in the top 12.
Harvick will start 13th after his last-ditch attempt to reach the third round of qualifying (175.444 mph) fell just short as time expired.
Ironically, three of last year's four Chase finalists – Hamlin, Logano and Newman – qualified in the top-five for this year's season finale, but all failed to advance to the final round.
Here's how qualifying played out: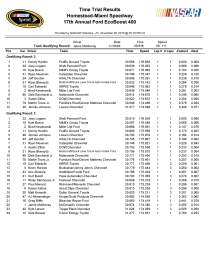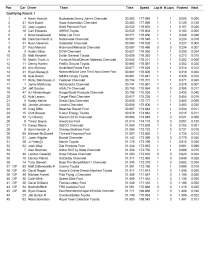 Follow @JerryBonkowski