The first entry in Jeff Gordon's Sprint Cup career came on Nov. 15, 1992, three years to the month before the birth of Chase Elliott, the driver replacing Gordon in the No. 24 Chevrolet next season following his retirement.
Gordon's career will end with start No. 797 at Homestead-Miami Speedway, a 1.5-mile track that didn't exist when he made his first start 670 miles north at Atlanta Motor Speedway.
Between those starts, competitors came and went while Gordon remained a constant, breaking Ricky Rudd's record for consecutive starts earlier this year. More than a few can tell you about the first time they raced the No. 24 or met its driver.
Here are some of those stories.
Justin Allgaier would first race Gordon on Sept. 13, 2013, at Allgaier's home track of Chicagoland Speedway.
"Unfortunately it wasn't the greatest race for me, he lapped me," Allgaier told NASCAR Talk. Allgaier, then 27, finished 27th while Gordon placed sixth.
"Growing up and having idols, Jeff was obviously one of mine," Allgaier said. "He's passed me a lot more than I've passed him, but the first time that I was fortunate to pass him was pretty awesome, I'm not going to lie."
But that race wasn't the first time the two driver's paths crossed. Allgaier remembers meeting Gordon around 1992.
"We were at a Chicago Boys and Girls Club banquet, it was like a racing banquet," Allgaier said. "I have a picture. His pant leg was like super staticy and it was about halfway up his leg and he had no idea and we took the photo together. I was probably six or seven at the time. So I'm at his leg level anyways. So it was pretty awesome."
The high point of Allgaier's three years in the Sprint Cup came in the 2015 spring race at Bristol Motor Speedway when he earned his only top-10 finish. It was elevated by Allgaier seeing the No. 24, which had won there five times, in his rear-view mirror much of the night.
"He was behind me for about 150 laps and it was him, myself and Jimmie Johnson and we literally were racing each other like crazy for 150 laps," Allgaier said. "It was cool because you have a guy like that that you respect and runs up front and then him to not be able to pass you, it's like, 'Alright, I'm doing my job well today. That's a good thing.'"
TERRY LABONTE
Terry Labonte, the "Iceman," was a teammate to "Wonder Boy" from 1994 – 2006. One of his favorite memories of racing Gordon came in the 1997 Daytona 500.
"I think the one year we finished first, second and third at Daytona was pretty special for Hendrick Motorsports," Labonte said. That day, Gordon finished first, followed by Labonte and Ricky Craven.
"The order was wrong," Labonte joked. "We were passing somebody, might have been passing Bill Elliott. Jeff went to the inside and I went the other way and passed him. It just so happened Jeff came out ahead when we got clear of him. That was a great run."
Gordon led the final six laps on the way to his 20th win in four years and becoming the youngest winner of the Daytona 500 until Trevor Bayne topped him in 2011 at the age of 20.
Kyle Busch keeps his promises. Or at least the one he made to Jeff Gordon in 1999.
Busch made the promise when he was 13 years old and Gordon was a three-time Sprint Cup champion.
"He and (team co-owner) Ray Evernham came out to test at Las Vegas Motor Speedway in the (Xfinity Series) car back in that day," Busch said, remembering when Gordon, fresh off a 13-win season in 1998, tested his Pepsi-sponsored car prior to the March 1999 race at the 1.5-mile track in Busch's hometown.
The promise came in the back of the team's hauler following the test session. While his dad got an autograph from Evernham, Busch approached Gordon with a box of t-shirts and diecast cars he hoped Gordon would sign.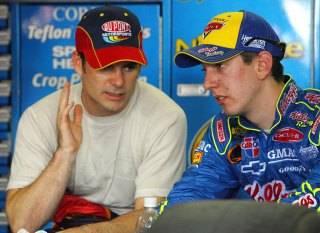 "He sat there and signed it, and I talked to him a little bit and told him that maybe one day, I'd be racing against him, and he better remember my name," Busch recalled.
"And he was like, 'OK, yeah, right kid.'"
The promise was fulfilled four years later. Busch joined Hendrick Motorsports and drove in seven Xfinity Series races in 2003. A year later, he made his Sprint Cup debut at Las Vegas driving the No. 84 Chevrolet and dropped out after 11 laps after brushing the wall one too many times.
Busch made sure to remind Gordon about their initial encounter.
"I actually told him that story right after I signed with Hendrick Motorsports," Busch said. "He couldn't put it in his head. He couldn't remember it. I think since then, me telling him that story, and me being right about I'll see you one day … I don't know if he was as happy that I was there as I was."
Kevin Harvick is biased. His favorite memory of racing Gordon is defined by six thousandths of a second. Or at least six inches. That was the difference between Gordon's 53rd win and Harvick winning in his third career start after replacing Dale Earnhardt Sr., following Earnhardt's death in the 2001 Daytona 500.
Harvick's first time on a track with Gordon took place at Las Vegas, but it wasn't in a race.
"One of the coolest moments for me is when we would go to Las Vegas and test over the winter, and then Xfinity cars and the Cup cars would just run on the track together," Harvick said. "There weren't separate test days. The first car I pulled out behind was Jeff Gordon, and I remember that moment thinking about how cool it was because Jeff Gordon is a legend in this sport, and was a legend at that time in the sport."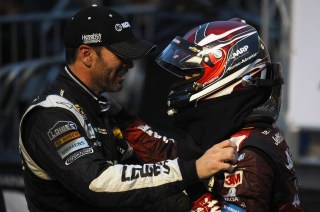 JIMMIE JOHNSON
Jimmie Johnson's first NASCAR race against Gordon was the 1999 Outback Steakhouse 200, an Xfinity Series race at Phoenix International Speedway. Gordon won, Johnson finished 18th.
Two years later, Johnson made his debut as Gordon's Hendrick Motorsports teammate in the first of 506 Sprint Cup races in the UAW-GM Quality 500 at Charlotte.
In the 14 years since, Johnson's two fondest memories of racing the man who helped bring him into the Cup series occurred in 2007.
That was the year Johnson beat Gordon by 77 points to capture the Cup title, his second of eventually five in a row. The other came in the spring race at Martinsville Speedway, the track where Gordon had seven wins at the time.
In the Goody's Cool Orange 500, Johnson was going for his second straight win at the track and had led the previous 112 laps when he took the white flag with Gordon dogging his rear bumper.
Johnson would go on to win at Martinsville in five of six races. Gordon wouldn't get his eighth grandfather clock until 2013.
CARL EDWARDS
After 1992, Gordon only competed in the Xfinity Series 11 times. As a result, Carl Edwards didn't compete on the same track with Gordon until his Sprint Cup debut in the 2004 GFS Marketplace 400 at Michigan International Speedway, where Gordon has three wins.
"I just remember that race – I remember everyone because I couldn't believe I was on the track with guys like Jeff Gordon and Rusty Wallace and everyone else," Edwards said. "Just the intensity of being able to race with those guys is crazy."
The day ended with Edwards finishing 10th, three spots behind Gordon.
Like Martinsville, a track synonymous with Gordon and success was Sonoma Raceway, where he won five times in nine years. Edwards was victorious there for the first time in 2014 after fending off Gordon over the final 16 laps.
"For me, that road course win was huge and to have Jeff Gordon finish second – really it meant a lot to me to hold him off and win there having watched him race and been successful at that track," Edward said. "The coolest part was him coming to victory lane and congratulating me on a good race – that was really special to me."
When Denny Hamlin started his first Sprint Cup race at Kansas Speedway on Oct. 9, 2005, he had to do it from the rear of the field after wrecking on his second qualifying lap.
He wasn't the only one who had to start from the back.
"I went to the back and (Gordon) was back there, he had to go back there for some reason," Hamlin said. "I remember pulling off pit road thinking 'Wow, I'm right behind Jeff Gordon in my very first race.'"
Unlike Edward's top-10 debut, Hamlin would stay in the back of the field, finishing 32nd, two laps down. Gordon finished 10th.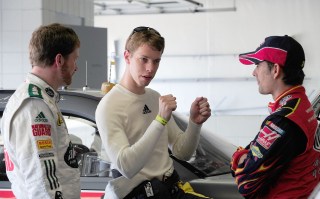 BRAD KESELOWSKI
Brad Keselowski will forever be connected to Gordon by the end of the fall Texas race in 2014. But the 2012 Sprint Cup champion does have at least one good memory of Gordon, a teammate during Keselowski's two years at Hendrick in 2008 and 2009.
"I have this picture, and it is kind of a montage that my sister put together for me and one of them is of me and Jeff when I was driving at Hendrick in 2008 and he was giving me some advice and that is a moment I will never forget," Keselowski said. "I was getting my first opportunity to test the Cup car and having him come over and give me some advice was probably one of my fondest memories. Certainly there are more than that, but that is the first one that comes to mind."
Keselowski would make his Sprint Cup debut in 2008 at – of all tracks – Texas Motor Speedway. Gordon finished second that day, while Keselowski came home 19th.