Jimmie Johnson won last weekend at Texas, but the biggest winner might have been Kevin Harvick. That's because Johnson's win prevented Brad Keselowski from automatically advancing to Miami, leaving Harvick with a solid 36 percent chance of winning the title. You can see the latest title probabilities here: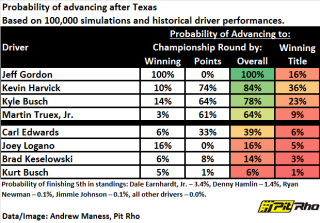 Had Keselowski won, Harvick's title chances would have been 28 percent. Below is the image showing the hypothetical odds if Keselowski actually had won. Notice Harvick suffers a lot as a result. Kyle Busch also would have been a big loser if Keselowski had won, so he should be thanking Johnson as well.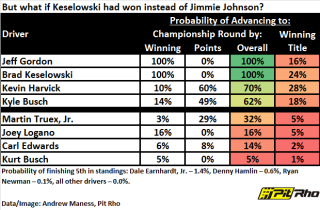 With just one race left to advance to the championship round, the Penske duo of Keselowski and Joey Logano effectively has been crippled. There is a slim chance that both can advance to Miami. It could happen only if Logano won the race, Keselowski finished very close to the front, and there were problems for contenders such as Harvick and Busch. The chances of all that happening are 0.7 percent.
This means Logano and Keselowski will be fighting against each other – rather than working together as they did at Martinsville. Only one can win and advance. You could say the biggest loser from Johnson's win was the entire Penske team, because its title chances dropped to 8 percent down from 18 percent last week.
As you can see in the first image, Harvick is the main title favorite now. He has a 36 percent chance of winning the title, and that will increase if he advances to Miami. He has an 84 percent chance of making it through Phoenix, which is very strong but not a guarantee. We've seen this team make mistakes in this Chase, so we can't just crown Harvick yet, or even assume he'll make it through.
Busch is the next big threat with a 23 percent chance of winning the title. Johnson's win over Keselowski helped Joe Gibbs Racing a lot, because the team is in a solid spot to get one (or even two) of its cars into the final four.
The most interesting points battle remaining is between Carl Edwards and Martin Truex, Jr. Neither has been considered a serious title threat, but both have made it this far through consistency and avoiding bad luck. If either (or both) of them make it to the final race, look for them to be the least likely threats to win.
As always, the numbers are based on a model designed by myself and Andrew Maness of Pit Rho, a racing analytics firm.
Eric Chemi runs data journalism for our sister network CNBC, including a heavy dose of sports analytics. Prior to that, his NASCAR analytics have been part of television broadcasts, and he has consulted for Sprint Cup teams on strategy, statistics, data, and analytics. He graduated with an engineering degree from MIT. You can follow him on Twitter @ericchemi.