Jennifer Jo Cobb surprised the rest of the Camping World Truck Series field in Friday's second and final practice session at Talladega Superspeedway.
Cobb was the fastest of the 28 trucks that took laps, clocking a top speed of 182.965 mph.
Austin Hill was second quick (182.954), followed by Terry Jones (182.954) and Bobby Gerhart (182.926).
Points leader Erik Jones was 16th-fastest (177.524). Two-time defending Truck champ and No. 2-ranked Matt Crafton did not take any laps in the final practice session.
Here's how the session played out: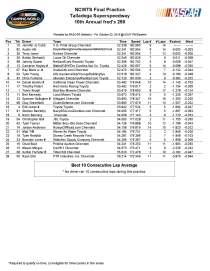 Follow @JerryBonkowski