Obviously, the big story coming out of Kansas was Matt Kenseth's spin and Joey Logano's second win in a row.
It's easy to see how the numbers would have played out if Kenseth had won instead of Logano. Kenseth would be in the next round rather than the furthest driver from it. We already had shown a week ago that his only way into the next round was to win at Kansas or Talladega. He missed his best shot.
Logano's second win hasn't changed much for him. He and Harvick still basically are neck and neck in the overall title hunt. Harvick's 16th-place finish actually was the second-worst among the 12 remaining Chase for the Sprint Cup drivers. Harvick's odds to advance to Round 3 actually dipped to 84 percent from 88 percent last week. Logano now leads the title odds 26-24 percent over Harvick, reversing their numbers from last week.
Here are all the probabilities for making it to Round 3 and beyond.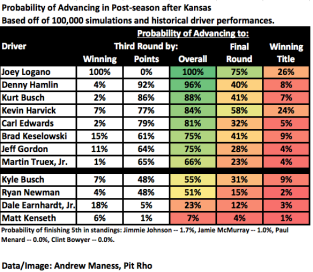 The numbers come from a prediction model designed by myself and Andrew Maness at racing analytics firm Pit Rho.
All of that can wait until we see who makes it past Talladega. While many drivers do get random finishes at plate races, a few names stand out on the list as having a better-than-expected chance of finishing up front.
It's well known that Dale Earnhardt Jr. is the best plate racer in the field, and he will need a win. He currently is 11th in the standings and 31 points behind the eighth-place cutoff. There's only a 5 percent chance he can make it to the third round on points (which could happen if a lot of drivers ahead of him crash or have other problems), but there's a substantial 18 percent chance of him winning on Sunday and advancing.
These are the career finishing positions at plate races for the 12 drivers, provided by Maness at Pit Rho. They are ranked by average finish. Earnhardt is the best, and Martin Truex Jr. is at the bottom.
Earnhardt has strong performances on plate tracks with many top-five and top-10 finishes along with random results outside the top 10. Harvick is similar, except he doesn't have as many top fives.
What might stand out most to casual observers is the strength of Kurt Busch. He has done extremely well on plate tracks in his career with a very strong average finish, including a huge portion of them right up front. Busch hasn't won a Cup race at Daytona or Talladega.
You'll notice the bottom two rows of drivers (from Brad Keselowski to Truex) show finishes that look almost entirely random. They are just as likely to finish up front as they are in the middle or the back.
Kyle Busch is among those drivers, and he's below the Chase cutoff line. Count that as two problems. Busch has not done all that well on plate tracks in his career, and he'll need to perform better than average to make it to the next round. That's why his chance of advancing is only 55 percent, or barely better than a coin flip.
A lot of these drivers, such as Kyle Busch, don't have to win to advance because much of the probability of advancing could come from simply finishing anywhere in the middle of the pack while other Chasers get caught in wrecks.
Eric Chemi runs data journalism for our sister network CNBC, including a heavy dose of sports analytics. Prior to that, his NASCAR analytics have been part of television broadcasts, and he has consulted for Sprint Cup teams on strategy, statistics, data, and analytics. He graduated with an engineering degree from MIT. You can follow him on Twitter @ericchemi.