Joey Logano won Sunday's Bank of America 500 at Charlotte Motor Speedway and is moving to the next round. That's the easy part.
Kevin Harvick finally had a drama-free race. He's well ahead of the game with an 88 percent chance of making it to the third round.
Harvick and Logano are the two clear favorites in the Chase. Combined, they have a 50 percent chance of winning the title. To put it in other words, it's Harvick and Logano vs. the field.
Much more interesting are two drivers below the cutoff line – Kyle Busch and Matt Kenseth. The two Joe Gibbs Racing drivers had fast cars but poor finishes at Charlotte.
Despite all that, Busch still has a 51 percent chance of advancing to the next round. Kenseth is in a worse spot – only a 25 percent chance of making it through.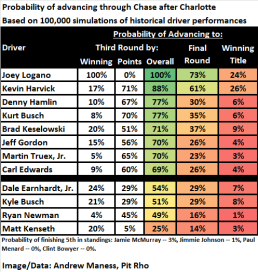 The numbers come from a prediction model designed by both myself and Andrew Maness at racing analytics firm Pit Rho.
When we break down those percentages, we can see that Busch's path to advance is more likely to come from points – not from a win. He has a 29 percent chance of running well enough in the next two races to advance without winning. That's higher than the 21 percent chance we give him to win either race (Kansas and Talladega). Despite how upset Busch was in his postrace interview, he shouldn't make drastic strategy changes. A couple of his better-than-average finishes would suffice. He has a better bet to do that than gambling for a win.
Kenseth's path is very different. He has a 20 percent chance to win a race, but only a 5 percent chance of making it on points. Kenseth's team should be trying to gamble for wins. In fact, Kenseth is the only driver of the 12 who now has a lower chance of advancing on points rather than wins. He should be the biggest risk-taker.
To provide context. Kyle Busch is 10th in the standings – but he is virtually the same number of points behind first (23) as he is ahead of 12th (22). That's how much Kenseth, ranked last among the 12 remaining Chase contenders, trails in points and why he needs to win.
On the other hand, Ryan Newman is six points behind the cutoff but has a 45 percent chance of making it on points – which is more than 10 times a better bet than his measly 4 percent chance of winning one of the next two races.  He didn't win a race last year but was the runner-up in the championships finale at Homestead-Miami Speedway, and the numbers suggest he has a shot of doing that again.
Eric Chemi runs data journalism for our sister network CNBC, including a heavy dose of sports analytics. Prior to that, his NASCAR analytics have been part of television broadcasts, and he has consulted for Sprint Cup teams on strategy, statistics, data, and analytics. He graduated with an engineering degree from MIT. You can follow him on Twitter @ericchemi.