An unlikely set of circumstances played out at Dover. Harvick entered with a 12-percent chance of advancing in the Chase; Johnson had a 97-percent chance. That non-guaranteed 3 percent is what bit Johnson. He had a mechanical failure, finished 41st and was hurt even more because Dale Earnhardt Jr. (third) and Jamie McMurray (fourth) finished so well. Had those two drivers finished around 20th, for example, Johnson's finish still would have been good enough to advance.
This is exactly why we had Johnson at 97 percent going into Dover instead of 100 percent. It speaks to the enormity of the situation, how rare of a mistake and how disastrous the result. The smaller the number, the bigger the deal. Johnson being out is a bigger deal than Harvick being in.
On the other side, Harvick's win shouldn't be looked at as obvious in hindsight.
He had only two wins through the first 28 races of the season, so a third win wasn't automatic. That's why we had him at 12 percent. This was a huge win for the team, especially after its recent misfortune.
Now that Harvick is in, and top-seeded Johnson is out, Harvick is the championship leader, according to our predictions: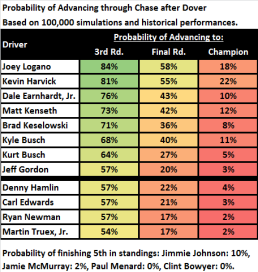 The numbers come via Andrew Maness at Pit Rho, a racing analytics firm.
Because Harvick advanced, and the points are reset, the prediction treats him as if the first first round didn't happen. Now his entire season of performance comes into play again, and its history filled with many top-five finishes. Harvick has a 22-percent chance of winning the title, higher than all other drivers.
His advancement to Round 2 hurts the probabilities of everybody else in the Chase – guys such as Joey Logano, Matt Kenseth, and Kyle Busch. They still have a decent chance, but Harvick once again is the top dog. If the No. 4 team can run the way it has and avoid mistakes as it did during the regular season, look for Harvick's 22-percent chance to win the title to grow each week.
As far as the next set of cutoffs, Martin Truex, Jr. and Ryan Newman are the most vulnerable. They haven't had the fastest cars, and with McMurray, Paul Menard, and Clint Bowyer out, Truex and Newman are the next two drivers most likely to find themselves on the bubble.
Speaking of Menard and McMurray, our numbers last week had them dropping out in favor of Earnhardt and Kyle Busch. In fact, Busch was outside the bubble going into Dover, but the odds predicted he (and Earnhardt) would outrun Menard and McMurray to advance. That's exactly what happened.
An interesting group to watch will be Jeff Gordon, Denny Hamlin, and Carl Edwards. All three could win a race at any time, but our numbers have them closest to the bubble. Each has a 57 chance of advancing, which isn't too much more than a coin flip.
Gordon has a 3-percent chance of taking the title. And while that might seem very small, it's not zero. Remember: Jimmie Johnson had a 3-percent of being eliminated, and it still happened.
Eric Chemi runs data journalism for our sister network CNBC, including a heavy dose of sports analytics. Prior to that, his NASCAR analytics have been part of television broadcasts, and he has consulted for Sprint Cup teams on strategy, statistics, data, and analytics. He graduated with an engineering degree from MIT. You can follow him on Twitter @ericchemi.