At New Hampshire, the big story of the race was Kevin Harvick's team falling short of expectations for the second week in a row. Harvick had the fastest car – led the majority of laps – and yet ran out of gas with three laps to go, finishing a lap down in 21st place. As a result, Harvick's chance of making it to the next round of the Chase is 12 percent.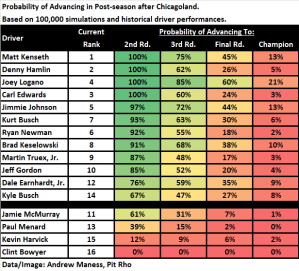 That 12 percent is broken down between a 9 percent chance of winning at Dover and a 3 percent chance of advancing by points. If Harvick had not run out of fuel last weekend, he would have finished at worst fifth. And that's a very conservative estimate because Greg Biffle finished fourth in a much slower car, having to save six more laps of fuel. Compared to the 12 percent chance Harvick has of advancing to the second round, a fifth-place finish at Loudon would have given him a 57 percent chance in advance.
This is the second week in a row we've seen something strange from this team. In the opening Chase race at  Chicagoland Speedway, the team's decision not to pit for a tire rub played a role in his crash and 42nd-place finish.  We calculated he lost about 40 percentage points to advance from the decision not to pit immediately.
If Harvick and his team had been conservative in both races, he likely would have had top 10s – probably top fives – and his chance of advancing would be practically 100 percent.
At New Hampshire, crew chief Rodney Childers wanted to bring Harvick in to pit but didn't communicate that information fast enough for Harvick to enter pit road. That left Harvick in the position of having to save a few laps of gas. The team, however, wasn't panicked. They believed he would easily save enough gas to make it to the end.
The lap times prove the lack of panic: Harvick was going just as fast as eventual winner Matt Kenseth (who wasn't saving gas) and much faster than Greg Biffle (who was saving gas).
Childers told NBC Sports he wasn't sure why they didn't have enough gas at the end. Perhaps the fueler didn't get all the fuel in, or there was an issue with the fuel bladder.
This is a big fall for Harvick. When the Chase started, we calculated he had a 92 percent chance to advance to the second round and a 23 percent chance of winning the title – the highest title odds of all drivers.
EVERYBODY ELSE
Kyle Busch is back on the bubble – but the four drivers straddling the cutoff line are only two points apart, so we would expect Busch and Dale Earnhardt Jr. to outrun Jamie McMurray and Paul Menard. That's why Busch still has a 67 percent chance of advancing, despite being slightly behind for now. In front of them, the entire top 10 is in solidly with 10th place Jeff Gordon having an 85 percent chance to advance.
Earnhardt also ran out of gas at the end of Sunday's race. He lost 10 spots – 10 points – because of it. If he had been able to make it to the end, those 10 extra points would have given him 14 percent more of making it to Round 2. He would be well above the bubble position he's in right now. The 10 spots he lost from having to pit before the end dropped him from a 90 percent chance of advancing to a 76 percent chance. Still good, but not great.
And by the way, Joey Logano has the best chance to win the title – at 21 percent.
BOWYER'S PENALTY
With Bowyer's team losing its appeal Wednesday, the penalty stays at 25 points. We calculate he has basically no chance of making it to the next round. This is because the numbers don't suggest he can win a race. He hasn't been a fast car for most of the year.
Eric Chemi runs data journalism for our sister network CNBC, including a heavy dose of sports analytics. Prior to that, his NASCAR analytics have been part of television broadcasts, and he has consulted for Sprint Cup teams on strategy, statistics, data, and analytics. He graduated with an engineering degree from MIT. You can follow him on Twitter @ericchemi.