Daniel Suarez shot to the pole for tonight's VisitMyrtleBeach.com 300 at Kentucky Speedway.
Suarez nearly hit 180 mph, grabbing the top spot in the field with a speed of 179.856 mph.
Brian Scott was second-fastest (178.855), followed by Regan Smith (178.719), Ty Dillon (178.353), Ryan Blaney (177.895), Brendan Gaughan (177.760), Jeremy Clements (177.702), Chase Elliott (177.305), points leader Chris Buescher (177.101) and Drew Herring (177.072), who qualified for Erik Jones, who was in transit from New Hampshire to race tonight.
Also, Ryan Reed, who qualified 19th, won the ARCA race at Kentucky earlier in the afternoon.
Here's how the qualifying session played out: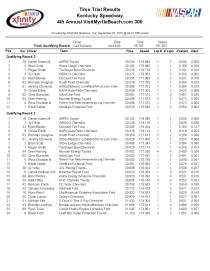 Follow @JerryBonkowski