Yes, Denny Hamlin was the winner Sunday at Chicagoland Speedway. But there was one giant loser – Kevin Harvick. It wasn't a single incident … but rather four things:
His bump with Jimmie Johnson
A flat tire caused by the bump
His (and his team's) decision to stay out instead of pitting immediately
Crashing into the wall because of the flat tire that resulted
Remember these four distinct and separate points. It wasn't that he crashed immediately upon contact with Johnson. Rather it was a step-by-step lesson in self destruction. In any case, the result of these events caused Harvick to finish 42nd. He was the only Chase driver to finish outside the top 20. Harvick's bad result was magnified by two factors:
The absence of cars falling out early.
The dominance of every other Chase driver.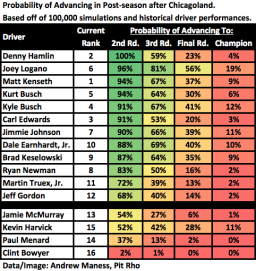 Harvick's chance of moving on to the second round of the Chase has dropped dramatically to 52 percent. Most people might say that he needs to win to advance, but that's not necessarily true.
His chances of advancing still primarily are based on points: a 33 percent chance he makes it on points, plus a 19 percent chance he advances by winning one of the next two races.
Remember, Harvick had only two wins this year but 10 second-place finishes. If he could get a couple more seconds, he would put himself back into position to advance. It's doable based on his track record this year.
The sad part for Harvick is his team could have dealt with problems #1 and #2 by just pitting immediately. They were chose to stay on track (creating problem #3), causing the ultimate demise (problem #4).
Maybe by pitting he would have lost a lap – perhaps even two laps – and stayed that far back the entire race. Assuming he finished in the middle of the pack – P22, then he'd still have 20 more points compared to now, with a very healthy 78 percent chance of advancing.
You could say his team's decision to stay out cost him 26 percent – at least. Note that Denny Hamlin and Carl Edwards both lost a lap early, only to end up 1-2.
Let's take a look at Harvick's advancement probabilities in 10 spot increments:
–If Harvick had finished second, he'd have a 96 percent chance of advancing to Round 2.
–If Harvick had finished 12th, he'd have an 87 percent chance of advancing to Round 2.
–If Harvick had finished 22nd, he'd have a 78 percent chance of advancing to Round 2.
–If Harvick had finished 32nd, he'd have a 68 percent chance of advancing to Round 2.
Harvick shouldn't be mad at Johnson. Perhaps the only punches he should have thrown were at himself (for not pitting) or for his crew (for not making him pit).
"I'm surprised that they didn't come right to pit road," says Josh Browne, a former Sprint Cup crew chief and now a co-founder at racing analytics firm Pit Rho. "It was so early in the race, and there was so much on the line. Harvick likely would have finished up front based on how the race played out, especially the advantage given to cars who took wave-arounds."
It's not Johnson's fault that Harvick is this far back. And if Harvick misses the next round by less than 20 points, he has only himself to blame.
Eric Chemi runs data journalism for our sister network CNBC, including a heavy dose of sports analytics. Prior to that, his NASCAR analytics have been part of television broadcasts, and he has consulted for Sprint Cup teams on strategy, statistics, data, and analytics. He graduated with an engineering degree from MIT. You can follow him on Twitter @ericchemi.