The first round of the Chase for the Sprint Cup is a third of the way done after Sunday's race at Chicagoland Speedway.
After the next two races at New Hampshire Motor Speedway and Dover International Speedway, the Chase field will be narrowed down to 12 drivers from 16. Currently, the four drivers in need of wins or really good points days over the next two weeks are defending champion Kevin Harvick, Clint Bowyer, Paul Menard and Jamie McMurray.
McMurray is 13th on the Chase grid, three points behind the cutoff spot, where Jeff Gordon sits at 12th.
Here's the Chase grid entering Sunday's Sylvania 300 at New Hampshire on NBCSN.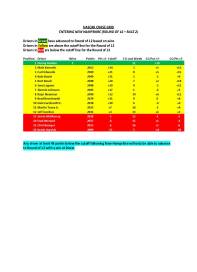 Pick the top 3 drivers in the Weekly Playoff Grid Challenge