DARLINGTON, S.C. – A digital dashboard lent a dichotomy to Darlington Raceway on the return of the Southern 500 to Labor Day weekend at the track.
With more than 30 Sprint Cup cars sporting retro paint schemes in a throwback celebration, Kurt Busch's No. 41 Chevrolet provided a glimpse of the future, employing the digital dashboard that will become mandatory next season.
"Just getting a head start on next year," crew chief Tony Gibson told reporters Friday. "We said, 'Why not? It's not in the Chase. We're not really risking a whole lot.' We'll work on it for a couple of races and get things the way he wants it, get our pit-road speed stuff done now before going into next year.
Drivers have been permitted use of the new technology for the past three races (since last month at Watkins Glen International), but Busch is the first to try it and the only driver using it at Darlington.
The next-generation display will feature 16 preset screens that teams can customize. Busch's dashboard at Darlington has access only to the data available for the current analog version – RPM, water temperature, oil temperature, oil pressure, water pressure, fuel pressure and voltage.
Gibson said there are elements to dashboard that concerns crews.
"The thing could black out, lock up," Gibson said. "There are a lot of things that could go wrong. Those are the things we've been working on to make sure it doesn't happen.
"But it's still a risk anytime you get on a computer with something that hot by the dash and the vibration side of it. It's just something we're not familiar with, so we've tested it a little bit. Now we'll try to race it and see what happens."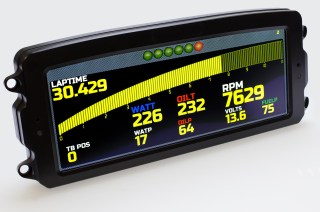 NASCAR hopes to introduce tire pressure monitoring in 2016. The digital unit can receive such data, but tires aren't equipped to transmit it. NASCAR is hoping to log tire pressures during and after a race, and it potentially could make the information available to teams in real time. The long-term goal is making the information accessible through broadcasts and online to fans.
Unlike typical gauges, the digital dash offers a wide array of aesthetics such as bar graphs and color scales. Teams also can choose to resize and reposition the data, and drivers can toggle through the screens for the information.