Last week I wrote the latest Chase prediction numbers, showing that Clint Bowyer – even on the 16th place bubble – has an 89 percent chance of making it into the Chase.
His closest competitor via simulation and historical driver performance, Kasey Kahne, has a 7 percent chance of getting in – because he is too far back on points and his limited number of wins in recent years.
However, that led to some healthy debate – including one example from the guys on "Tradin' Paint" on SiriusXM NASCAR Radio, claiming that the "numbers" would have given Ryan Newman no chance in the Chase last year. Some of the callers also claimed that the numbers were not as accurate as they would like.
Well here's the thing, we ran the numbers for 2014, exactly as we have been running the 2015 numbers.
And Ryan Newman's chance to make it into the championship round was a healthy 18 percent.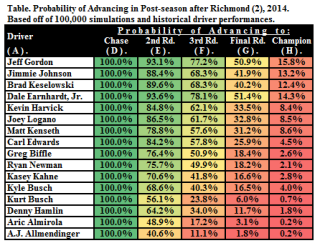 "Image source: Andrew Maness, Pit Rho"
The numbers gave him a 76 percent of making it past the first cutoff point, a 50 percent chance of making it past the second cutoff, and an 18 percent chance of getting into the final race at Homestead-Miami Speedway. At the start of the Chase, the model gave him a 2 percent chance to win the title – and obviously that number grew as the Chase continued.
In the same way, we know in 2015 which drivers have performed well – and which drivers have not. We know where they are in the points standings. We know how they have done in this equipment and at upcoming tracks. That's where we get the numbers. Each new race gives us new information to adjust the numbers. But for now this is what we know.
And what the numbers say – based on everything we know right now – is that Kevin Harvick has the best shot to win the title – at 25 percent. Joey Logano, Kyle Busch, Jimmie Johnson, and Dale Earnhardt Jr. are the other drivers with at least a 10 percent chance of winning the title as well.
Contrast that to Carl Edwards, Jamie McMurray, Clint Bowyer, and Paul Menard. Collectively, they have such a tiny chance of winning the title. It's not zero – but it's way less than 10 percent, that's for sure.
Their chances definitely are lower than the first group. Part of the issue with the Tradin' Paint analysis was claiming each driver in the Chase would have an equal 1-in-16 chance of winning it all.  In March Madness, a No. 1 seed is a much bigger favorite than a No. 16 seed. In the NFL, the Jacksonville Jaguars and Seattle Seahawks wouldn't have 50-50 odds if they played each other. In the NBA, you almost never see a champion seeded outside the top three. These are real trends, backed by historical performance. Sixteen drivers might make the Chase, but they are certainly not equal.
Let's face it: that first group is stronger than this second group. Drivers in the second group could technically still win it all, but it won't be what people expect.
And that's why they run the races. Each week we have new results, new performances to add to our knowledge, new changes in the points standings, new eliminations. All those things cause an adjustment to the models. Clearly there are more than 16 guys who could be in the Chase right now, but once the Chase starts, that number can only be 16 – and it only goes down. By the final race it can only be four. Until they're eliminated, everybody is still in it. But some people have a better chance than others.
Eric Chemi runs data journalism for our sister network CNBC, including a heavy dose of sports analytics. Prior to that, his NASCAR analytics have been part of television broadcasts to predict race winners, and he consulted for Sprint Cup teams on their strategy, statistics, data, and analytics. He graduated with an engineering degree from MIT.