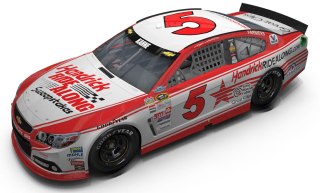 Kasey Kahne will join the retro throwback look in the return to the traditional Labor Day weekend for the Bojangles Southern 500 at Darlington Raceway.
Kahne's No. 5 HendrickRideAlong.com Chevrolet will carry a theme similar to Hendrick Motorsports' first-ever entry at the Track Too Tough To Tame. Geoff Bodine drove the original All-Star Racing Monte Carlo at Darlington back in 1984, the year Rick Hendrick founded Hendrick Motorsports.
"We finished 35th in our first Darlington race back in '84 and nearly closed the doors," Hendrick said in a media release. "Martinsville was next on the schedule, and (crew chief) Harry Hyde did a great sales job and talked me into running one more race.
"He was convinced Geoff could win there, and, thankfully, he was right. We were able to get a sponsor, which allowed us to finish the season and set the table for everything that's happened since."
Kahne was just four years old when Bodine drove the No. 5 at Darlington.
"I think the car looks great," Kahne said. "I am excited to drive it at Darlington, a track that we have come close to winning at in the past and been fast at since I've been in Cup. It is a big weekend, Labor Day weekend, the Southern 500 – that is a race that I really want to win, and to be in a great looking, old-school paint job.
"I think the fans will really enjoy it," Kahne said. "I know from me being a race fan as well as a driver, I like the retro. I like the older look of cars once in a while. I'll be doing it, Chase Elliott, Dale (Earnhardt), Jimmie (Johnson) – there's a bunch of us doing it throughout that weekend, so I think it is really neat to bring that back on a big race weekend."
But the retro look isn't the only thing on Kahne's mind. He's hoping to win Sunday night's race, which would put him in the 16-driver Chase field.
"It would mean a ton to win the Southern 500," he said. "It has always been one of those races I wanted to win as much as any other one. We have come close but haven't been able to do it. But to do it in this car, that time of the year right before the Chase – I think with momentum and confidence it would be the perfect time."
Follow @JerryBonkowski