To celebrate the return of the Southern 500 to the Labor Day weekend at Darlington Raceway, Martin Truex Jr.'s No. 78 Chevrolet will have a special paint scheme promoting National Ovarian Cancer Awareness Month.
Truex's Furniture Row Racing-sponsored car will carry a teal paint scheme, which is the official ribbon color for ovarian cancer awareness. Truex's steering wheel and gloves will also have a teal appearance.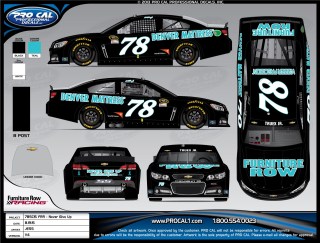 Truex's long-time girlfriend, Sherry Pollex, was diagnosed with ovarian cancer more than a year ago. Pollex has worked diligently in fundraising and to raise awareness about the disease.
Several Sprint Cup drivers have also gotten behind the effort to raise awareness, advocacy and research for ovarian cancer. Among those drivers are Danica Patrick, Dale Earnhardt Jr., Ryan Newman and Kasey Kahne.
NASCAR has also approved the teal ribbon to be placed on Sprint Cup Series race cars.
"It is an honor to have our No. 78 race car help kick off National Ovarian Cancer Awareness Month," Joe Garone, general manager of Furniture Row Racing, said in a media release. "Sherry's (Pollex) strength along with her all-out dedication to helping others is an inspiration to everyone associated with our race team."
Follow @JerryBonkowski