The Sprint Cup Series isn't the only place you can see retro paint schemes this weekend at Darlington Raceway.
You can see a few in Saturday's Xfinity Series VFW Sport Clips Help A Hero 200. Denny Hamlin will have a retro scheme similar to the one he'll use in the Southern 500.
Now Joey Logano is getting in on the fun. Team Penske announced Logano's No. 22 Ford will be sponsored  by Hertz and will pay tribute to the car rental company's "Rent-a-Racer" program from the 1960s.
Logano's car will have a paint scheme that was used on the Shelby GT350H Mustangs.
According to the press release, Carroll Shelby and Hertz created "Rent-A-Racer" to help get select high-performance, special-edition Shelby Mustangs into the hands of rental customers who were car enthusiasts. Ford supplied the new Mustangs with V-8 engines and mostly automatic transmissions while Shelby added extra performance and style, and Hertz gave the public access to the kind of unique driving experience that one would normally only find on a racetrack.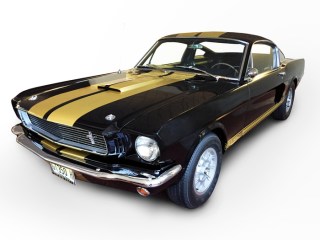 "I'm pretty excited to run this special Hertz paint scheme," said Logano in the release. "Anytime you can get behind the wheel of a car that has a new look to it, people take notice. And the Hertz Rent-A-Racer car just looks fast. I think it will stand out, especially among all the cars that will have really cool throwback paint schemes that weekend in Darlington."