Erik Jones was the fastest driver in Saturday's final Truck Series practice at Canadian Tire Motorsport Park in Bowmanville, Ontario, Canada.
Jones led the field with a speed of 110.436 mph. Alex Tagliani, who was fastest in the morning's first practice session, was a close second in the final practice with a speed of 110.364 mph.
Cameron Hayley was third fastest (110.273), while Johnny Sauter (110.177) and Ben Kennedy (110.132) rounded out the top five.
Several drivers were involved in incidents, including Jennifer Jo Cobb and John Wes Townley, who both slammed into a tire barrier in the same exact spot during practice.
Townley's truck suffered extensive damage, forcing his team to go to a backup truck. Cobb's team was working to repair her truck.
Qualifying for Sunday's Chevrolet Silverado 250 race will take place later today at 5:45 pm ET.
Here's how the final practice session played out: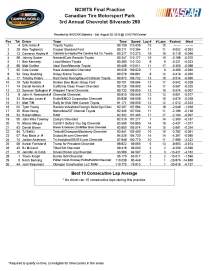 Follow @JerryBonkowski